Accused! Yahoo! exec! SUES! her! accuser!, says! sex! harassment! never! happened!
Allegations were for 'financial gain', countersuit claims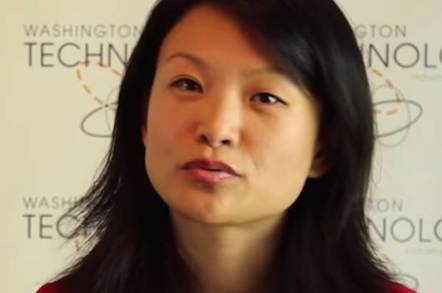 Maria Zhang, the Yahoo! executive accused of sexual harassment by former staffer Nan Shi, has filed a countersuit for defamation and intentional infliction of emotional distress, claiming Shi's allegations are nothing but a pack of lies.
Lawyers representing Zhang filed the cross-complaint in the California Superior Court in Santa Clara on Tuesday.
"Making such false and outrageous allegations is so unimaginable it raises the question of why anyone would resort to such extreme measure," the filing obtained by The Register states. "In Shi's case, the answer is simple: financial gain."
Earlier this week, Shi sued Zhang – her former boss – for sexual harassment, emotional distress, and wrongful termination after being fired from her job at Yahoo!. According to Shi's complaint, the reason she was let go was because she refused Zhang's sexual advances, after previously having been coerced into bedding Zhang on multiple occasions.
But according to Zhang's cross-complaint, not only did Zhang never force Shi to have sex, but the entire story is a fabrication:
Shi and Zhang never had sex. They never had a sexual relationship, neither forced nor consensual. Zhang never promised Shi any favorable treatment at Yahoo if Shi engaged in any sexual activities with Zhang. And Zhang never threatened Shi with any negative job consequences at Yahoo if Shi did not engage in sexual activities with Zhang. Shi made the entire story up in an attempt to save her job and avoid losing hundreds of thousands of dollars in unvested Yahoo stock.
Zhang's filing further claims that, contrary to Shi's assertion, Yahoo! did in fact conduct a thorough investigation into Shi's allegations of sexual harassment, but it concluded that there was "no support for Shi's assertion that there was ever any sexual relationship between her and Zhang – much less that there was a non-consensual sexual relationship."
The document alleges that while Shi was given the opportunity to submit various forms of evidence to substantiate her claims – including witnesses, emails, text messages, letters, photos, or any other documentation – she never produced any.
Furthermore, although Shi claimed in her original suit that Zhang gave her negative performance reviews in retaliation for refusing Zhang's advances, Zhang's countersuit argues that those reviews actually came from two other supervisors who reported to Zhang, each of whom found Shi's performance lacking.
According to Zhang's suit, it was this history of poor performance that led to Shi's termination, not any sexual imbroglio.
As a result of Shi's alleged defamation, Zhang is seeking compensatory and punitive damages "in an amount not yet precisely attainable, but which Zhang will establish at trial" – although the suit alleges that Shi has already profited to the tune of hundreds of thousands of dollars as a result of her claims.
A spokesperson for Yahoo! reiterated its earlier statement that Zhang is "an exemplary Yahoo executive" and that it would "fight vigorously to clear her name," but declined to comment further on the matter. ®