Elon Musk GIVES UP ON SEX: He'll make do with a 'cheap' Tesla III instead
Zillionaire electric car sumpreo stock blocked by Ford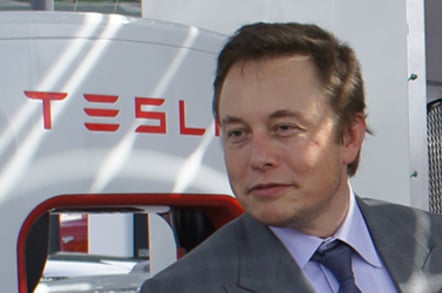 Elon Musk has announced that his electric car maker Tesla will have a new model available for sale in 2017 at the relatively cheap* price of $35,000. And he added that he has an oh-so classy name for the flash motor.
"We had the model S for sedan and X for crossover SUV, then a friend asked what we were going to call the third car. So I said we had the model S and X, we might as well have the E," Musk told magazine Auto Express.
"We were going to call it model E for a while and then Ford sued us saying it wanted to use the Model E," he claimed.
"I thought this is crazy, Ford's trying to kill sex! So we'll have to think of another name. The new model is going to be called Model 3, we'll have three bars to represent it and it'll be S III X!"
Musk said the new car will be about 20 per cent smaller than the Tesla S model, and a big part of the price drop will come from the expected economies the firm hopes to get when it opens its gigafactory – which Musk promises will be the biggest battery production facility in the world.
Musk said that his firm expects to sell about 35,000 cars this year, but that having a lower-cost model will bring in six-figure annual sales by the end of the decade. He's also planning to install a series of supercharging stations along the length of the UK to spur British sales of his vehicles.
The new battery factory will also be used to offer an upgrade to Tesla's Roadster lineup. Musk said that today's Roadster battery technology is only good for 245 miles at best before recharging, but that the new energy storage system will give the sporty little coupe a much longer range.
"The Roadster had an old generation battery," he said. "We'll upgrade it to a new generation battery pack and it should have a range of about 400 miles, which will allow you to drive from LA to San Francisco non-stop."
Bootnote
OK, cheapness is relative where Tesla motors are concerned. The Tesla S will cost a touch under $70,000 if you're paying cash and the Roadster cost $109,000 when it was still for sale. Both of those prices can be reduced by government incentives as well, depending on your locale. ®
Sponsored: Beyond the Data Frontier