Can it be true? That I hold here, in my mortal hand, a nugget of PUREST ... BLACK?
Brit boffins stumble on wonder material while down the pub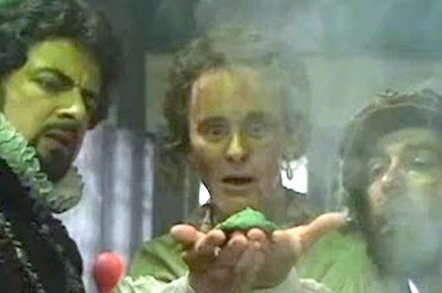 British boffins have constructed a light-absorbing nano-material that could improve the accuracy and sensitivity of imaging and optics systems.
Researchers at Surrey NanoSystems say that their Vantablack material, built from carbon nanotubes, is capable of absorbing as much as 99.96 per cent of incident radiation to create a material that appears a far darker shade of black than any previously manufactured. Apparently, light enters the material, and is absorbed and converted to heat before it can escape.
Aside from being the envy of goths the world over, the Vantablack materials will have a number of practical uses. In areas such as targeting instruments, telescopes and optical calibration, the ability to coat objects in the low-reflection material will improve accuracy and sensitivity.
"Vantablack is a major breakthrough by UK industry in the application of nanotechnology to optical instrumentation," claimed Surrey NanoSystems CTO Ben Jensen.
"For example, it reduces stray-light, improving the ability of sensitive telescopes to see the faintest stars, and allows the use of smaller, lighter sources in space-borne black body calibration systems."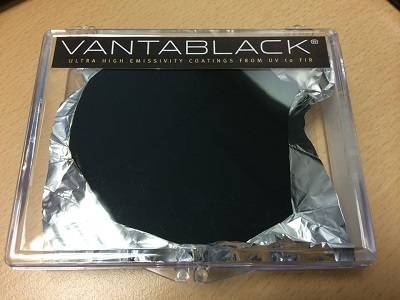 Nanomaterial, or a rift in the temporal plane?
Surrey researchers believe that the lightweight material will be highly thermally conductive and can be applied to both flat and three dimensional surfaces. Intended markets could include spacecraft and aeronautics. The company said that it will be constructing the Vantablack material in house as well as working with third-party manufacturers.
"We are now scaling up production to meet the requirements of our first customers in the defence and space sectors, and have already delivered our first orders," Jensen said.
On how the material was created, he quipped to the Guardian: "We were in the research lab getting very frustrated. We raced down to the pub and had a lightbulb moment."
As manufacturing techniques become cheaper and more practical, researchers have been seeking to integrate carbon nanotube into various materials and applications. Recent uses for the technology include bullet-proof textiles and highly sensitive conductive sensors.
"This [Vantablack] is not a groundbreaking thing," sniffed professor George Stylios at the school of textiles and design at Heriot-Watt university to the Graun. "It's a progression of a group of scientists, of companies that try to manipulate materials to push the boundaries." ®