DRONE WARS: Killers, spies? Nah, they're IDEAL for snapping pics of hot models
Face, face... Give beauty, face, face!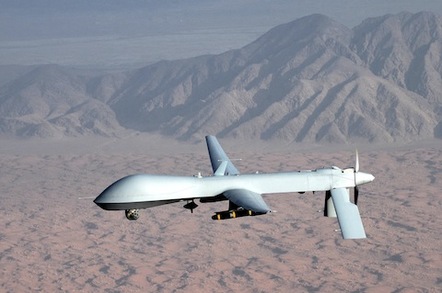 Drones have been used for various tasks including killing opponents from afar, spying on enemy combatants or even carrying bomb-disarming kit.
But a group of researchers from MIT and Cornell University have dreamed up a much more peaceful role for the snap-happy autonomous robots.
Boffins have suggested that drones could serve as photographic assistants, working in swarms to shine light into the darkest of areas.
At the International Symposium on Computational Aesthetics in Graphics, Visualization, and Imaging in August, the team will present a small helicopter which can produce an effect called "rim lighting", where only the edge of a subject is lit.
Manohar Srikanth, a postdoc researcher at MIT, said this was notoriously tricky to achieve.
"It's very sensitive to the position of the light," Srikanth says. "If you move the light, say, by a foot, your appearance changes dramatically."
The robot is able to perform quick movements, allowing it to throw exactly the right kind of light from the correct angle.
"If somebody is facing you, the rim you would see is on the edge of the shoulder, but if the subject turns sideways, so that he's looking 90 degrees away from you, then he's exposing his chest to the light, which means that you'll see a much thicker rim light," Srikanth continued. "So in order to compensate for the change in the body, the light has to change its position quite dramatically."
Cleverly, the drone is able to communicate with a camera 20 times a second allow it to compensate for a photographer's movements and move into position. This is no easy feat, added Srikanth.
"When we first started looking at it, we thought we'd come up with a very fancy algorithm that looks at the whole silhouette of the subject and tries to figure out the morphological properties, the curve of the edge, and so on and so forth, but it turns out that those calculations are really time-consuming," he continued.
Instead, the algorithm looks for the areas with the largest differences in light brightness, measuring the width between the two to assess the "rim" and then throw the light in the correct configuration.
The drone is not likely to find its way into every-day studios any time soon, but where it could find a use is in motion-capture film studios, although they require pinpoint accuracy.
So until then, it's work experience kids who will end up holding the lights. ®
Sponsored: What next after Netezza?