Diary note: Pluto's close-up is a year from … now!
New Horizons is less than a year from the dwarf planet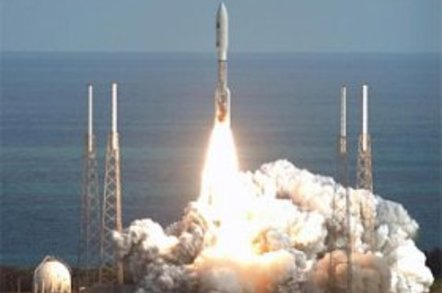 NASA's New Horizons mission will arrive at Pluto 364 days from … now!
Launched in January 2006, the craft passed Jupiter back in 2007. It hasn't had much to do since, as while it has passed the orbits of Saturn, Uranus and Neptune the planets weren't there at the time.
NASA's not worried about that, because New Horizons' mission was always to visit Pluto and its moons. The craft will make its closest approach the infamously demoted-to-dwarf-planet-status body. Work will start long before then, with observations commencing five months before nearest approach. Ten weeks before arrival the craft will be able to produce images that better those captured by the Hubble Space Telescope. Six weeks later the craft will be making daily observations of Pluto and Charon.
Nine months after its encounter, in April 2016, all data from the fly-by will reach Earth, likely sparking rather a lot of activity among Pluto boffins.
By the time that download is complete, New Horizons should be rather busy trying to check out Kuiper Belt objects. The Hubble was recently tasked with finding interesting objects for New Horizons to focus its Long Range Reconnaissance Imager telescopic camera.
At Pluto, New Horizons will use an ultraviolet imaging spectrometer to analyse the atmosphere. A spectrometer will map the dwarf planet and a solar wind and plasma spectrometer will investigate how the orb interacts with Sol's emanations.
The craft is also carrying some PEPSSI – or at least an instrument called the Pluto Energetic Particle Spectrometer Science Investigation – that will measure "the composition and density of plasma (ions) escaping from Pluto's atmosphere."
When New Horizons reaches Pluto it will be over three billion miles (4.8bn kms) from Earth and light will take over four hours to reach the craft. It therefore seems best to pencil July 15th into your diary for humanity's closest look at Pluto to date, as the time needed to retrieve and analyse data means as-close-to-realtime-as-possible release doesn't seem likely. ®