BitTorrent not to blame for movie revenues, says economist
Movie futures traders provide better data than Hollywood sockpuppets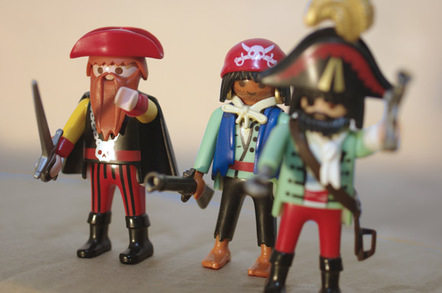 An economist known for sticking pins in big content's dire warnings about file sharing has produced a new study suggesting that BitTorrent's impact on movie revenues is small and sometimes even positive.
Koleman Strumpf, who has taken the adding machine to RIAA and MPAA claims of monetary loss since the heyday of Kazaa, has looked back over years of data for his latest opus, titled Using Markets to Measure the Impact of File Sharing on Movie Revenues.
This time around, Strumpf looks at the relationship between the stock price of producers, and when illicit copies of movies hit the file-sharing sites. The thesis is that if investors considered a Torrent of Transformers: Age of Extinction represented a greater risk for DreamWorks than the quality of the movie, it would be reflected in the share price.
In the more academic language Strumpf uses: "forward-looking markets can be used to establish the unobserved counter-factual of how movie revenues would change on any possible file sharing release date, particularly those prior to the theatrical premier.
"Using movie-level tracking stocks in conjunction with the arrival date of illicit copies, I find that file sharing has only a modest impact on box office revenue", he continues.
Using data covering the six years from 2003 to 2009, Strumpf looked at a movie box-office futures exchange, the HSX (Hollywood Stock Exchange), and compared price movements on that data to when movies were copied, based on a large-but-unnamed BitTorrent index site.
He notes that the size of the datasets involved – since, for example, the HSX represents lots of trades – should provide better statistics than merely recording an apparent, immediate change to a movie's revenue on the date that a Torrent hits.
"In typical observational studies, there is essentially one observation per movie (the time of the file sharing release and the total revenue)," he writes. "With markets, the price moves continuously and each price change provides useful information. Market traders know there is some probability a movie will be released on file sharing networks at each time, and expectations about this release pattern are impounded in market prices".
As a control, he looks at how HSX traders react to trailer releases (a demonstration of how quickly the exchange reacts to new information).
An interesting observation in the paper is that "one consistent result is that file sharing arrivals shortly before the theatrical opening have a modest positive effect on box office revenue", suggesting that "free and potentially degraded goods such as the lower quality movies available on file sharing networks can have some beneficial effects on intellectual property".
Overall, however, "The estimates indicate that the displacement effect is quite small, both on a movie-level and in aggregate" – in other words, no, BitTorrent isn't what's destroying Hollywood.
The study was presented to the National Bureau of Economic Research. ®
Sponsored: Detecting cyber attacks as a small to medium business