Canuck reader threatens suicide over exact dimensions of SPAAAACE!
How many As? Reg hack's writing cops a shoeing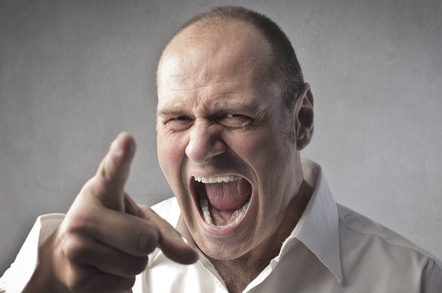 It's been a while since I've received a decent flame email, so it's hats off to one Lorne Babcock for this missive which sizzled into my inbox this morning, bemoaning the headline "Beer in SPAAAACE! London Pride soars to 28,000m"...
SPAAAACE!

How many A's should there be in the word space? The years go by Lester, and you do not get any better at writing. I can't remember, do you have a formal education? It's been some years now since I have read any of your articles because every time I read your stuff, I feel like committing suicide. I would have thought that you would learn as the years go by.
Charming. Well, one thing I have learnt over the years that commentards are a fickle bunch. There was a time when Babcock the Canuck* wasn't so unkind, or indeed reaching for bottles of barbiturates and vodka at the sound of my byline.
Back in 2009, when fellow Vulture Central hack Kelly Fiveash copped the sharp end of some US ire over "Google to pop Chrome OS cherry tomorrow?", he wrote:
I love this article. If they yank doesn't like it then that falls under the TFB clause. I keep hoping that a very great chasm will open up someplace in the middle of his country and the whole bloody works of them will slide in and disappear. No such luck I don't suppose. They have been sticking their nose into other people's business for far too long. They can't manage their own country let alone try to impose their foolish religious approach to life onto the rest of us. Good story. Keep up the good work. Nice to be able to say something good about one of your stories and I'm particularly happy that instead of trying to call that unfortunate country America you used the proper terminology for once. Well done.
Happy days. Now, back to business. Just how many As are there in SPAAAAACE, exactly?
Bootnote
*A bit Like Conan the Barbarian, but armed with a baseball bat.