SpaceX FINALLY lobs six sats into orbit (don't mention the landing)
'Reusable' Falcon 9 rocket now anything but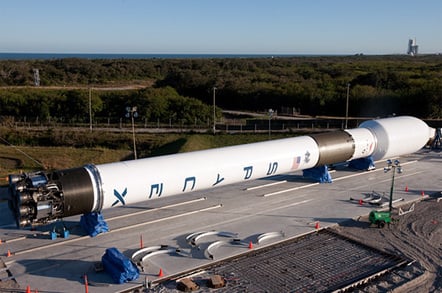 Video SpaceX has successfully launched six new communications satellites for Orbcomm after months of delays. However, Elon Musk's rocketeers had less success at landing the used Falcon 9 rocket after its delivery.
The Orbcomm birds will be used solely in a machine-to-machine communications network run by the company, and will connect equipment on sea, air, and land. The satellites were due to launch in May, but two launches were scrubbed for technical reasons.
In the latter halted launch, SpaceX found a potential problem during the final preflight checks when the rocket was minutes from launch. Given the value of the payload and the reputational damage that would ensue from a launch vehicle going boom on the pad, SpaceX delayed the launch to today.
The satellites have now successfully been deployed into low-earth orbit.
However, Musk reports that attempts to land and reuse the Falcon 9 rocket, used to hoist the birds, were less than successful. After delivering its payload, the rocket fell back to Earth and deployed the four landing legs on its hull.
The SpaceX team controlled the rocket's descent, and it was due to come down over the sea ready for pickup. But just before landing something went very wrong:
Rocket booster reentry, landing burn & leg deploy were good, but lost hull integrity right after splashdown (aka kaboom)

— Elon Musk (@elonmusk) July 14, 2014
So it looks as though it's back to the drawing board for the SpaceX engineers. Hopefully, enough of the booster can be recovered to find out what went wrong. ®
Sponsored: What next after Netezza?