Microsoft wants to lure biz users with fondleable Windows 8.1 'Apportals'
Custom Start Screens lump enterprise apps and data in one place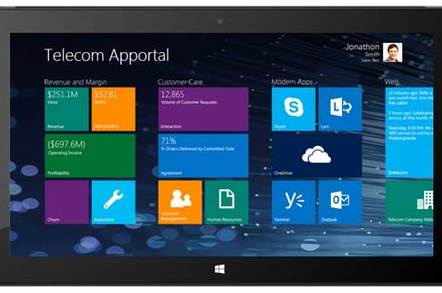 Microsoft is once again trying to convince businesses to get on board with its touch-centric computing vision, with the introduction of a new tool called Windows Apportals.
Billed as a way to "integrate your entire Line of Business (LOB) stack into a single, modern, touch-based experience," Apportals allow companies to build custom portals swathed in the colorful, blocky veneer of Microsoft's Modern UI design language.
Essentially, an Apportal is a custom version of the Windows 8.1 Start Screen, where IT admins can specify which tiles and apps should appear and where. Microsoft makes a distinction between the two – tiles on the Start Screen are called Live Tiles and tiles in Apportals are called Grid Tiles – but they work more or less the same way.
Clicking on the Apportal tile on the Start Screen brings up the Apportal screen, and each Apportal can have multiple, nested screens that users can navigate like folders.
Apportals can even be configured to respond to roles as defined in Active Directory, so that different data tiles and apps can appear for different categories of users. Content can also be filtered by organization, industry, or geography.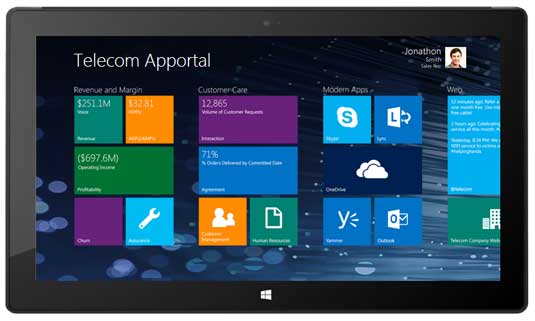 Windows Apportals put IT admins in charge of how business apps and data are organized
The portals aren't limited to Grid Tiles and Windows Store apps, either. Web applications and even legacy Windows 7 desktop applications can also be thrown into the mix.
"Windows Apportals address a long-missed insight in enterprise sales: customers use software from many vendors," Microsoft's Grad Conn wrote in a blog post on Friday, using italics to emphasize what a stunning revelation this was for Redmond.
The idea is to give employees a single, easy-to-navigate place to find all of the apps and data they need for work, rather than forcing them to scroll through all the mish-mash that might be cluttering their Start Screens. And because admins control what's in an Apportal and where, users can't muck them up, either intentionally or accidentally.
What's more, because Microsoft has built a unified UI across all of its client operating systems, Apportals will scale to various screen sizes, from desktop monitors on down to Windows Phone handsets. Redmond says this interoperability is built-in at the OS level, and no API calls are necessary.
The question is, just how many enterprises will really be champing at the bit to build Apportals? Microsoft is clearly smitten with the idea of touch-first UIs, but building fondleable apps hasn't been high on the list of priorities for many businesses.
In fact, because they require Windows 8.1, Apportals will be off the table for many companies for some time to come. IT shops that are only now migrating away from Windows XP are mostly sticking to Windows 7, and those on Windows 7 already haven't exactly been racing to upgrade further. According to figures from Netmarketshare, less than 7 per cent of all PCs are running Windows 8.1 now.
Still, if the idea appeals to you, Microsoft has a number of resources available to get you started. You can either sign up to receive a Builder Guide, ask to hear from Microsoft partners who can build Apportals, or have Redmond itself contact you with more info. ®