It's a boxless, super-flash, hyper-converged world: But what'll we do for BULK STORAGE?
Cloud storage gateways on the up. Here's why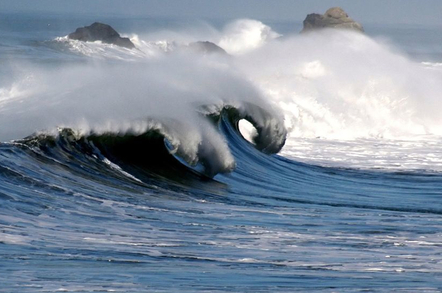 Blocks & Files Bulk secondary and tertiary data is going to the cloud. Not right now and not for everybody but the local ownership, operation and management of secondary data storage is costly and complicated and – slowly but surely – the cloud storage services are getting cheap enough and reliable enough to take over.
CIOs will likely increasingly say dump the data centre hardware ship and ship the data up into the cloud.
That means they still have to have fast local storage for the virtual machines in virtual servers and physical servers.
The top data storage sin, after losing data, is latency. Flash is replacing fast disk. Servers are getting bulked up on flash steroids and disk arrays are getting slimmed down into lean, mean all-flash machines.
We're being told to get rid of storage boxes altogether and run virtual SANs with VMware's VSAN bulling its way to the top of that tree.
We're also hearing we should get rid of separate servers, storage and networking boxes and have scale-out hyper-converged appliances. These provide shared storage using VSAN-like concepts.
So we end up with scale-out virtualised VSAN-using flash-based compute boxes or hyper-converged boxen with network switches built in, or networked all-flash arrays talking to servers.
None of these boxes are good for bulk storage, not one. That is going to the cloud - see above.
So, and here's a slight imaginative leap from El Reg storage desk, any on-premises fast data-access storage facility will have to have a cloud storage backend. That means:
all-flash arrays will get cloud storage gateway and data tiering capability covering on- and off-premises data – think XtremIO, Pure, Cisco Invicta;
VSANs will get cloud storage gateway functionality;
hyper-converged boxes will get cloud storage gateway functionality – think NIMBOXX, Nutanix, Simplivity and others;
cloud storage gateway functionality will become a feature; and
dedicated cloud storage gateway/WAN-optimising products will become fast local storage products providing a cloud backend – think Avere, Riverbed, etc.
To prolong their active life, disk drive arrays are going to have to embrace flash – as Dell, Fujitsu, HDS and HP are doing – and add cloud storage backends, as EMC and NetApp are doing.
So sit back and watch as a cloud storage gateway tide floods across the storage landscape. ®