'Ribbed' for your pleasure: Jony Ive unveils NAKED IPHONE
All-glass mobe could herald the END of traditional cases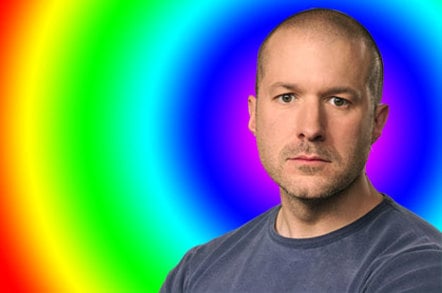 Apple has patented a method of building an all-glass device which could herald the arrival of a see-through iPhone.
It has been granted a patent called "Fused glass device housings" which describes a technique of fusing glass pieces together in a way that makes the whole structure strong enough to withstand an impact.
As well as phones and other mobile devices, the technique could be used to create monitors or even televisions.
The patent is filed in the name of Apple chief designer Jony Ive and co-authors Peter Russell-Clarke and Michael K Pilliod.
It notes that thick glass can be robust and resist damage, but is often very heavy. To make the see-through device a bit tougher, the patent allows for reinforcing "ribs" to prop up the structure.
Raised sections of glass can be put around holes in the casing, so that buttons can be fitted, while some parts of the glass could be rendered opaque to hide the 'leccy bits. The glass elements are used to create a five-sided box, into which circuit boards and an LCD or OLED display can be fitted.
Sadly, unlike the cool see-through wristwatches that were fashionable in the '80s, there are unlikely to be many moving parts in an iPhone, so the best fanbois with see-through mobes can hope for is a glimpse of a processor or motherboard.
Before folks start wailing about this patent heralding the arrival of phones that pick up scratches far too easily, we'd suggest they watch this video of a man attempting to stab a Sapphire Glass screen and failing miserably.
However, with no mention of Sapphire Glass in the patent, it is unclear whether it will be use if any all-glass device would use the material, which is rumoured to have been used to make the iPhone 6 display.
Apple is already famous for attempting to kill off the 30-pin iPhone charger, Firewire and even the floppy disk. Might it actually be about to make customers happy for once by abolishing the scratchable screen? ®