Airbus to send 1,200 TFlops of HPC goodness down the runway
HP scores deal to provide plane-maker with new fleet of data-crunching 'PODs'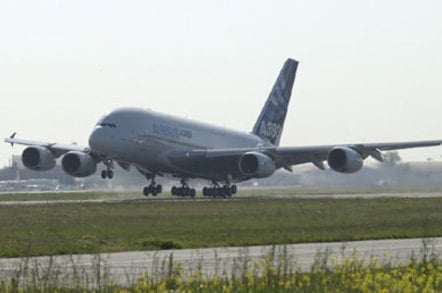 Airbus is going to expand the modular data centre strategy it initiated with HP in 2011, with a 1,200 TFlop target capacity.
The HP PODs will be added in Toulouse, France, and Hamburg, Germany.
Airbus first started parking HP PODs – Performance Optimsed Datacenters – in a contract announced in September 2011. However, HP says the latest contract will see both expanded capacity and reduced power consumption.
The PODs to be delivered to the aircraft maker are said to require half the energy-per-TFlop used by the plane-maker's current kit. The five-year contract stipulates ongoing upgrades to the machines, cooling, and housing.
With 22 50-unit-high racks, HP claims each of the 12m PODs are equivalent to 500 square metres of data centre space, and each unit includes the full HP Converged Infrastructure – blades, storage, networking, software and systems management.
The previous setup, with 2,016 ProLiant servers per POD, was a measly 244 TFlops, and at the time ranked 29th in the Top 500 list (measuring the Toulouse and Hamburg installations as a single machine). HP says the water-cooled installations have a PUE of 1.25.
According to Silicon's German site, the PODs were assembled in the Czech Republic before being shipped to the Airbus locations. France's Centre of Excellence for High Performance Computing in Grenoble provided optimisation services during the configuration of the systems. ®