Going up: Fancy a virtual flight to 30km above the PLANET?
Space boffin rattles tin for immersive Oculus Rift experience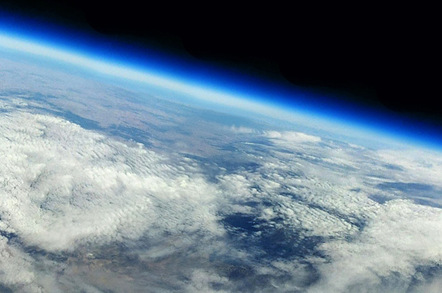 Those of you who've always fancied a trip to 30km above the Earth's surface, but have neither the money nor a pair of cojones the size of a plucky Playmonaut's, are directed to this interesting KickStarter campaign in support of a "Virtual Ride to Space".
Dr Aaron Knoll - a "lecturer in the field of plasma propulsion" at Surrey Uni - is attempting to get a 12 GoPro camera cluster off the ground to create an immersive vid viewable on the Oculus Rift.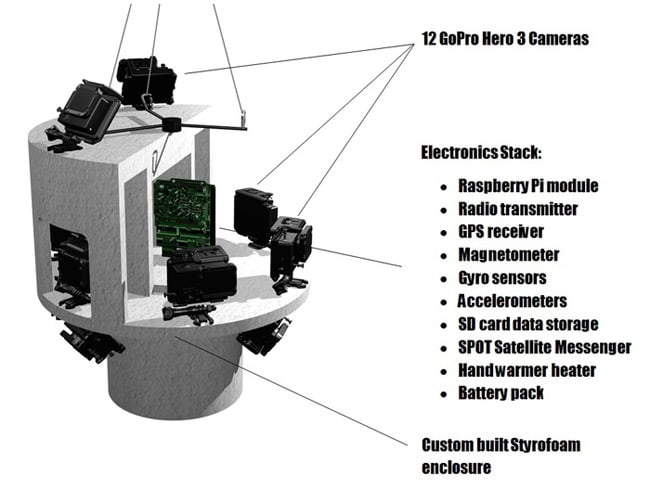 On paper, the flight itself is a simple enough proposition, with Dr Knoll's* biggest concern being the recovery of his dozen GoPros. Our experience shows that the chances of 12 action cameras working continuously throughout the flight are slim, and when we put this to the good doc, he replied: "It's funny you should mention the issue of camera redundancy. When we launched the first version of the KickStarter back in February, we had opted for a 24 camera configuration with complete redundancy across all cameras (2 side-by-side cameras would have to fail to lose content).
"However, we received a lot of comments from the community that the redundancy wasn't needed. So, with the new design we don't have any redundancy (12 camera setup). We are using the 3+ camera model, so hopefully the reliability is improved. Also, we're planning a rapid ascent so we only need to capture content on all cameras for 1.5 hours.
"Hopefully we'll identify any potential issues early in testing. We're going to do a full mission dry run prior to launch, and let all of the electronics run in their flight configuration for 5 hours. The cameras will surely have died by then, but we'll see how much simultaneous content we recover so that we can quantify our 'safety margin'."
Once the footage is in the can, Knoll will knuckle down to getting the software side sorted for the Oculus Rift. Anyone who has managed to survive so far without a VR headset will be able to enjoy the ride anyway on a smartphone or PC.
As noted above, the KickStarter campaign is the second attempt to get the project off the ground. Dr Knoll has slashed the price of the software this time round, and for just £4 you can have the PC version, while it's £6 for the Oculus Rift experience, and a tenner for the full-fat phone/PC/headset software suite.
As of this morning, 166 backers had pledged £2,000 towards the £5,000 target. ®
Bootnote
*Yes - cue underwater/volcanic lair mission control centre gags.
Sponsored: Detecting cyber attacks as a small to medium business