Five arrested over money-grubbing fake UK.gov shocker
Trading standards raid houses across Blighty and suspend 25 copycat sites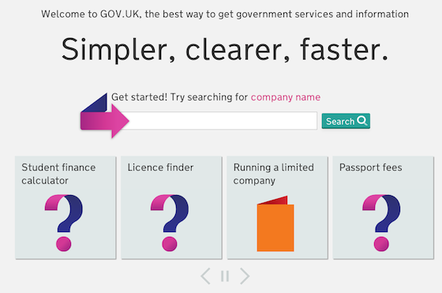 Five suspects in Blighty have been arrested during an investigation of copycat government websites that con folks out of money for items like new passports, driving tests and car tax discs.
The sites try to pass themselves off as official and then trick people into paying for services that the government actually provides more cheaply or even free of charge.
The National Trading Standards eCrime Team said it had raided four properties across the UK and suspended at least 25 sites in a crackdown on the fraud.
"Our eCrime team is clamping down on the cyber fraudsters behind these websites and we are making it as difficult as possible for these online hoaxers to operate. We have been working with search engines such as Google and Bing to remove adverts from online search results and we continue to gather intelligence across the country to help tackle this issue," said Lord Toby Harris, chair of the standards board.
"We urge you to avoid unofficial websites which could leave you out-of-pocket or at risk of identity theft. Only use the GOV.UK website to find government services. If you come across copycat websites, report them to Citizens Advice."
The board reckons the best way for UK netizens to make sure they're on the right site is to avoid search engines altogether and go straight to GOV.UK. If folks do use search engines, they've been warned to pay attention to the difference between natural results and paid-for results.
Over 5,000 complaints were made to Citizens Advice last year about copycat sites and another 700 to the Advertising Standards Authority. Most complaints were about sites related to driving licences, passports or tax returns.
The fraud sites frequently use URLs that have fragments of official names like "govuk" or "directgov" to make them look like the real thing.
"It's great that it's becoming easier and more common to use the internet to order official documents such as passports or tax discs, but people should be aware of rogue websites that are out there trying to exploit them and take their hard-earned cash and even put them at risk of identity theft," warned Jo Swinson, minister for consumer affairs.
"The enforcement action which the National Trading Standards eCrime team has taken demonstrates the government's commitment to tackling these scammers. We will not let them get away with misleading consumers." ®
Sponsored: Becoming a Pragmatic Security Leader