F1? No, it's Formula E as electric racing cars hit the track
Waving the green flag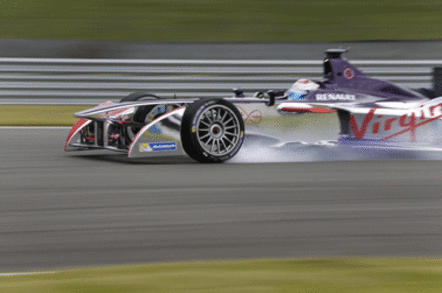 Electric motorsport is finally getting some of the attention given its internal combustion engine brother with the first day of testing of the new Formula E taking place at Donington Park Racing Circuit in Derby.
It will be a while before we see an actual race in the UK, though. That's not going to be until 27 June 2015, and despite the Metropolis Street Racer style video above, it will take place in Wandsworth, not Westminster, with Battersea Park the pick for the London location.
The first race of the 10-race season takes place in Beijing in September with another in Monaco in May. The cars use a McLaren-built 200kW electric motor with a race mode of 133kW and 67kW push to pass. The cars weigh a minimum of 800kg, of which 200kg is the batteries from Williams. This translates to a 0-60mph (0-97kmph) time of three seconds. The top speed is limited to 225kmph (140mph).
For the first year, the 42 cars are identical. The Spark-Renault SRT_01E has a chassis designed by Dallara. The carbon fibre cars are built by Spark in France.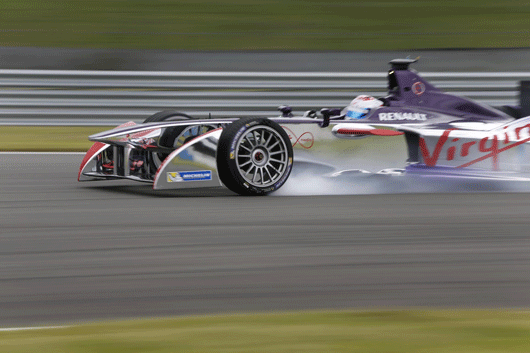 In the first day of testing, the fastest driver was Sebastien Buemi, who raced Formula 1 for Toro Rosso, the Red Bull test team that's leading LMP1-H. However, it's hard to use his time to compare performance with other forms of motorsport as the circuit has been redesigned.
The job of Formula E is to excite people about the thought of electric cars.
While 6 billion people have mobile phones and spend on average $12 a month, there is very little spent by the mobile industry on Formula 1, let alone F-E. Telefonica, Truphone and BlackBerry have all signed small sponsorship deals, but it has been a long time since we saw Orange and Vodafone as big name sponsors. The one exception is Claro, part of the America Movil group, which currently sponsors the Sauber F1 team.
For sponsorship, Formula E has turned to Qualcomm, which sees the races as a way to promote the Qualcomm Halo wireless charging standard, which will initially be used for static charging.
Qualcomm sees this progressing to a system where cars can be charged on the move and wants it to become a global standard. To make this happen we can only hope it will be as open with IP as Tesla has been.
Halo will not be used in Formula E cars themselves, but will be used by the race safety cars from that well-known Croatian manufacturer Rimac Automobili. Although perhaps the most interesting technology in the video here is that which causes someone to get into a car as a young woman and get out as an older man. ®