Is there too much sex and violence on TV?
Not really, say Brit viewers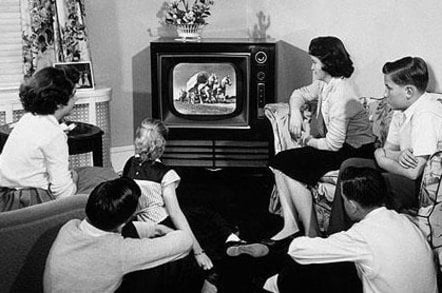 British television's 9pm watershed is 50 years old this month, and TV watchdog Ofcom has published figures showing that while it's still relevant in protecting kiddies from the worst televisual excesses, viewers are increasingly tolerant of sex, violence and bad language.
The watershed ensures there's a non-abrupt transition to "harmful and inappropriate content", with the "strongest material" broadcast well after the kids are tucked up in bed.
Business as usual, then, but what's revealing is a gradual shift in attitude to post-watershed material. Ofcom reports:
In the past five years, there have been falls in the number of viewers saying there is 'too much' violence (35% of adult viewers in 2013, down from 55% in 2008), sex (26% in 2013 versus 35% in 2008) and swearing (35% in 2013 versus 53% in 2008) on TV.

One reason for this is a change in attitude among older viewers. The number of viewers over 65 who believe there is too much swearing (78% in 2008 compared to 55% in 2013) and violence (75% in 2008 compared to 52% in 2013) has fallen over the past five years.
It's debatable whether these figures can be attributed to a more liberal attitude or the immunising effect of increasingly explicit TV. Whatever the case, people are far less prone to TV-induced indignation. Ofcom explains:
Among those adults who had been offended by something on TV in the last 12 months (18% of adult viewers), nearly four times more people are likely to continue watching the programme than in 2008 (5% in 2008 versus 19% in 2013) and less likely to turn off the TV altogether (32% in 2008 compared to 19% in 2013).
Sadly, Ofcom has no figures for the hard-core minority which responds to offensive material by kicking the telly in, as one chap allegedly did in response to the infamous 1976 Bill Grundy interview with the Sex Pistols.
Back at the watershed, meanwhile, Ofcom admits it has to address the issue of on-demand television. The watchdog's Claudio Pollack said: "Ofcom recognises that the growth of on-demand TV is posing new challenges for parents and regulators. We're working on ways to help ensure that the protections viewers expect from the watershed apply beyond broadcast TV." ®