Google spares founders from TERMINATORS, but not Eric Schmidt
Click this way if you want to live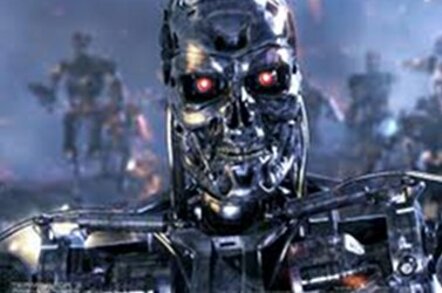 A chap named yueq over at Y Combinator has spotted evidence that Google has decided founders Larry Page and Sergey Brin need protection from Terminators.
Proof comes in the form of Google's killer-robots.txt page, which reads as follows:
User-Agent: T-1000 User-Agent: T-800 Disallow: /+LarryPage Disallow: /+SergeyBrin
In case you're not an aficionado of the Terminator franchise, its first instalment features Arnold Schwarzenegger as the "T-800" cyborg. Terminator Two sees a more advanced "T-1000" unit made of liquid metal battle the T-800.
Running an "alert(document.lastModified)" script on the page suggests it was last updated on July 1st, so the interdiction on Terminators may be quite recent. Which may explain how the pair have managed to get away with creating a data-sucking colossus in the guise of an ad-slinger.

Google's killer-robots.txt page. Click this way if you want to live.
The page is probably a joke. Google and others occasionally slip in this kind of thing where they think nobody will look.
Beyond divining the motives of whomever penned and placed the page, Vulture South feels one more question needs to be asked: if Brin and Page are protected from killer robots sent from the future to hunt down humans, why isn't Eric Schmidt listed too? ®