Goldilocks Gliese planets don't actually exist
Interstellar war averted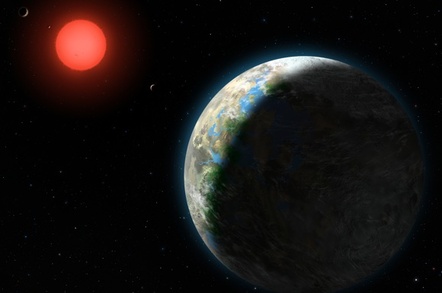 The world is breathing a collective sigh of relief today as interstellar war with aliens from the well-known prospective "Goldilocks" worlds orbiting the star Gliese 581 has been averted – because the planets don't actually exist.
Youtube video of the planets orbiting Gliese 581
In the heady early days of the search for planets in the habitable zones of nearby stars, Gliese 581, an M-class dwarf star located just 20 light years away in the Libra constellation, was something of a standout. Various boffinries originally found six planets orbiting in the system, with no less than three sitting in the sweet spot from the sun where liquid water is possible.
One Goldilocks world (so called as its "not too hot and not too cold" to support life), Gliese 581f, was quickly disproved, but hopes were so high that the system could support intelligent life that clapped-out social network Bebo – quite popular at the time – reckoned spamming Gliese 581 with a load of old teenage tosh was a great idea.
Obviously, this was actually a terrible idea because if there was someone listening, they would no doubt think it incumbent upon them to rid the Universe of this blot of inanity, this sore of narcissism, this boil of solipsism, which apparently thought its first meeting with intelligent aliens should be marked by such comments as:
I love Television. We watch animated cartoons and real-life drama on it. I could sit and watch Television all day.

Hi im nicole ... someday i would love to appear on the west end stage, in a hit show.i also wouldnt mind doing a few television programs whether it is as a extra or a main part i dont mind i would love to appear on doctor who as i love it. anyway laters. Nicole x
However, the enthusiasm was short-lived as scientists immediately started to question the results that lined up these planets in the Goldilocks zone. There were questions about whether the worlds could in fact support life at all and also questions about whether the original data supporting their discovery could be backed up.
So it's with bittersweet relief (no interstellar war = good, no aliens = boo) that the world greets the latest research on the system, which indicates that Gliese 581's g and d planets, the last two options for Earthlike living, don't actually exist.
Picking Earthlike planets out of the sky is no easy task. Boffins can't actually see the worlds themselves, but instead infer their existence from changes to the way the light from their host star changes in appearance. Irritatingly, having a planet pass in front of the star is not the only way the light may be dimmed or altered – it could also be caused by activity in the sun itself.
Scientists use various tricks to try to confirm their "sightings" of exoplanets, one of the most obvious being waiting for the planet to come round again if they can. Planets have periodic orbits and the fact that it comes this way every x number of days is a relatively good indication that it's a real world, not just a blip.
But stellar activity can be periodic as well. Sunspots can sit on the surface of a star and rotate in and out of view and flaring activity can have cycles like our own Sun's 11-year activity cycle. To try to compensate for these false positives, boffins apply different filters to what they're seeing.
Commonly, researchers will measure the emission of calcium at the blue edge of the visible spectrum, but because small, cool M dwarf stars have such a low temperature, they emit very little light at the blue end of the spectrum. In the latest study, researchers have figured out that Gliese 581d and Gliese 581g don't exist by using redder absorption lines like sodium D and hydrogen alpha. They used the data from these results to correct for the effects of magnetic activity on the star and ran the numbers again from the start.
Both the planets in the habitable zone turned out to be nothing more than some sunny activity, but the boffins were able to confirm with much more certainty that the other three worlds exist. This doesn't help the Gliese 58 system with its lifelessness, but it will help researchers to get rid of future false positives.
"Our improved detection of the real planets in this system gives us confidence that we are now beginning to sufficiently eliminate Doppler signals from stellar activity to discover new, habitable exoplanets, even when they are hidden beneath stellar noise," said lead author Paul Robertson, a post-doctoral fellow at the Penn State's Centre for Exoplanets and Habitable Worlds.
"While it is unfortunate to find that two such promising planets do not exist, we feel that the results of this study will ultimately lead to more Earthlike planets."
The full study, "Stellar activity masquerading as planets in the habitable zone of the M dwarf Gliese 581", was published in Science.®