Apple fanbois to talk at the iWatch, INSPECTOR GADGET style – report
It could be a M.A.D. agent plot, Uncle Gadget... 'Nonsense, Penny. It will be great fun'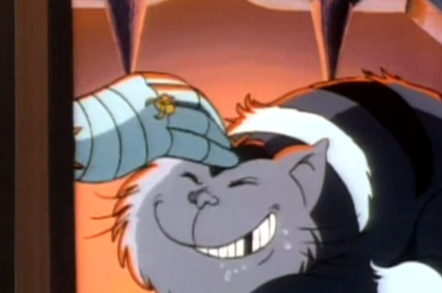 The next generation of fanbois will walk down the street speaking into their wristwatches, Tim Cook has suggested.
Speaking to UBS analyst Steven Milunovich, Cook hinted at Apple's interest in voice messages. In a note sent to clients that was seen by Fortune magazine, Milunovich recalled:
"When we visited with Tim Cook, he said that walking down streets in China one sees people speaking into their phones sending voice rather than text messages. Porting this capability to the watch makes sense as it is easier to send a voice message from a device already on the wrist than pulling out a phone. It also could aid penetration of China, which Cook said has a ways to go."
As well as saving the fingers of tap-happy fanbois, voice messaging could open up a whole new revenue stream to mobile providers, who rely on voice calls, text messages and internet for their daily bread.
Then again, the messages will probably just end up being sent over mobile internet a bit like iMessages. In which case, the best telcos can hope for is Apple users hitting their download limits a bit earlier, resulting in a net benefit of little more than diddly squat.
Apple, of course, will do very nicely whatever happens, assuming fanbois buy the iWatch, which hasn't yet been officially confirmed by Cupertino.
Milunovich reckons the fruity firm will flog 21 million units in 2015 and 36 million units in 2016, with each iWatch costing about $300. However, he warned that a watch is nowhere near as sellable as a phone.
"Some analysts look for 40-50 million units the first year assuming 10-15 percent of iPhone users buy the iWatch. That's certainly possible if Apple gets the product right but recognize that it's a different kind of decision [than choosing to buy a phone]. The good news is that consumers interested in the iWatch may be less price sensitive."
So, would you feel comfortable speaking to your wrist in public? ®
Sponsored: Minds Mastering Machines - Call for papers now open