REVEALED: The sites blocked by Great Firewall of Iraq
Reg obtains list of banned sites in crisis-hit nation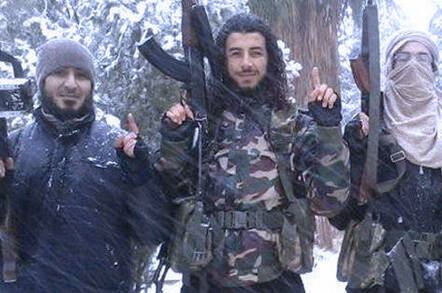 Exclusive The Register has obtained a list of the websites which are still blocked by the Iraqi government despite its decision to lift partial and total internet blockades around the country.
Although the Ministry of Communications appears to have gone back on its decision to restrict access to Facebook and Twitter, ISPs have been told to enforce a strict ban on a number of websites.
We have seen a list which shows these are mostly local news outlets and promotional sites for ISIS, although what appears to be a page for the iRAQI Ba'ath Party is also banned.
It is understood that Twitter and Facebook are up and running in the country again, even though Isis has been known to use both to win new recruits and wage a propaganda war.
Having now declared an Islamic "caliphate" (purportedly with Isis leader Abu Bakr al-Baghdadi as its caliph) spanning Iraq and Syria, ISIS has achieved huge territorial gains.
Martin Frank is CEO of IQNet, which operates as a "wholesaler", selling internet connection services to enterprise and ISPs in Iraq.
Frank is originally from Sweden but is now based in Iraqi Kurdistan after moving to Iraq eight years ago. He receives twice-daily missives from the government in Baghdad, telling him which websites are currently banned.
He said: "The internet is back in full capacity, with blocks removed on Facebook, Viber, Twitter and other websites.
"However, several sites are still blocked. These are generally news-related websites which have been critical of the government.
"We are in constant contact with Baghdad and hear from them at least twice a day. Sometimes they are checking if everything is blocked, other times they want to know if we are having any problems or complain that we are not blocking enough."
The Iraqi government's internet shutdown has been more or less useless, Frank added, as journalists on some television channels have been broadcasting guides on how to access the web using virtual private networks (VPNs).
"The blocks are not very effective, because people can just download a number of application for the iPhone. Some television channels even showed how to use VPNs."
Kurdistan is currently the safest place in Iraq and Martin's staff have been taking shelter there in a bid to avoid getting caught up in the violence.
Here is the latest list of blocked sites in Iraq:
http://www.iraqinews.com/tag/fallujah/
http://www.herakiq.com/
http://www.almadar.co.il/newss.aspx?cid=69&
http://www.nakhelnews.com/
http://altaghier.tv/
http://www.ahraraliraq.com/
http://www.raneem.net/
http://www.muslm.org/
http://www.alzawra.com/
http://revofallujah.org/
http://albaghdadia.com/
http://www.albaghdadianews.com/
http://haqana.com/
http://www.alarabiya.net/
http://aljazeera.net/
http://www.alrafidain.tv/
http://iraqislami.own0.com/
http://www.muftialiraq.info/
http://www.dhiqar.net/
http://www.alomah-alwasat.com/
http://www.harithaldhari.com/
This leaked email – purportedly from major Iraq fibre-optic network operator ScopeSky conveying instructions to ISPs that it had received from the the communications ministry – shows the order to re-open services in five regions as well as Baghdad. The internet remains shut down in Fallujah, which is known to be an ISIS stronghold. We've dropped a line to ScopeSky for comment and will update if we hear back.
Mohamad Najem, advocacy director of a Middle Eastern NGO called Social Media Exchange, confirmed the block had been largely lifted. He said: "Porn sites are still blocked, [but] social media websites were unblocked in Baghdad – excluding a few areas where the clashes are happening now.
"Five provinces in Iraq are still blocked. The blockage is happening on the domain [level] and users [are using] proxies to circumvent it."
The Register understands those provinces to be Nineveh, Salahaldeen, Kirkuk, Diyala and Al Anbar.
Do you know anything about the Iraqi government's bid to censor the internet? Get in touch and let us know. ®