NASA flying saucer vids show fire in the sky
Mighty thruster lifts Mars payload delivery tech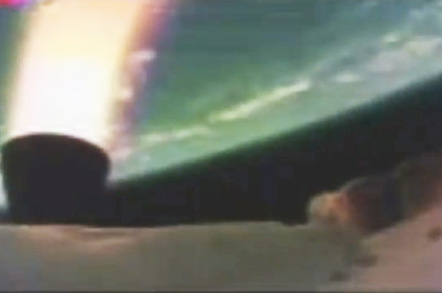 NASA has released some entertaining short video clips from last Saturday's test of the Low Density Supersonic Decelerator (LDSD), showing how the future Mars payload delivery tech flight featured a mighty thruster, some hot airbag action and a while lot of a-whoopin' and a-hollerin'.
The LDSD launched below an enormous helium-filled orb from the US Navy's Pacific Missile Range Facility, on the Hawaiian island of Kauai.
At 36,500m, it dropped free from the balloon, and was blasted to 55,000m and Mach 4 by a ATK Star 48B solid fuel thruster.
Once the motor had done its job, the "Supersonic Inflatable Aerodynamic Decelerator" (SIAD) airbags popped out to slow the vehicle to modest Mach 2.5...
...after which the "Supersonic Disk Sail Parachute" out in a less than fully-deployed appearance:
Despite this glitch, NASA noted since that the SIAD and 'chute were "bonus" elements of a mission principally intended to test the LDSD, the ballocket flight was a success.
The ultimate aim of the LDSD to try out technologies allowing heavier payloads - up from the "current capability of 1.5 metric tons to 2 to 3 metric tons" - to be safely delivered to the surface of Mars. NASA has two further flights scheduled for next year. ®
Sponsored: Detecting cyber attacks as a small to medium business