Cambridge Assessment exams CHAOS: Computing students' work may be BINNED
'We're painfully aware' of incredibly embarrassing cockup - board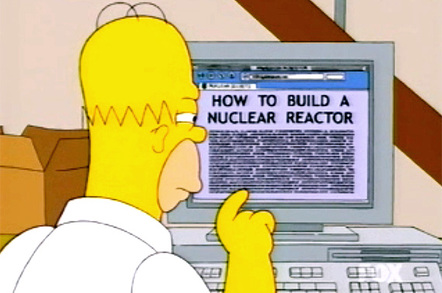 Updated Budding tech teens - who have taken close to 40 hours of Computing GCSE controlled assessments - face the agony of seeing some of their work scrapped by a leading Brit exam board, after it said it was withdrawing tasks for key units amid cheating claims.
Awarding body the OCR, which is part of Cambridge Assessment, had posted an alarming notice on its website last Friday in which it said:
Malpractice: J275 – GCSE Computing, unit codes A452 and A453 – all tasks. It has come to our attention that there are a number of websites promoting worked answers for all of OCR's GCSE Computing live controlled assessment tasks. As a result of this, all tasks for both GCSE units A452 and A453 have been withdrawn with immediate effect.
However, the OCR later removed the announcement as news of the decision hit Twitter.
A spokesman at the OCR told The Register this morning that "the statement was posted up in error claiming a decision had been made when it hadn't."
He added: "The error in this statement had spread, but it is not the final decision."
If you bin my coursework I will cry - #withdrawnCA

— George McCarthy (@gmanmccarthy) July 1, 2014
When quizzed by El Reg about the blunder, the OCR spokesman agreed that the exam board had made matters worse by misinforming anxious teens about its plans for those taking the computing GCSE.
"You're right," the spokesman said. "We're painfully aware of that."
The OCR said in an official statement on its website that the original notice about withdrawing tasks for units A452 and A453 had been wrongly posted "before we had finished consulting with internal and external stakeholders."
It apologised for the error and added that a final decision will be announced at midday.
"Controlled assessment work is carried out in the classroom under supervision – students can't work on the project outside of the controlled environment, but there's nothing to stop them looking things up on the web at home," a concerned parent, who contacted the Reg about his son's GCSE Computing work, told us.
"Although it's for the summer 2015 exam, these controlled assessments typically take place during the preceding year. My son has just about completed his. 40 hours of classroom time is a huge chunk to lose – for a two-lesson-a-week subject, that's half of an entire year."
We'll bring you more on this story as soon as we have it. ®
Updated to Add
An earlier version of this story characterised the unedifying sequence of events described above as "a bit of a joke".
This prompted Cambridge Assessments spokesperson Hilary Fletcher to write in, saying:
Your sub headline: "'We're painfully aware it's a bit of a joke', admits exam board" is inaccurate and misleading, as are pars 7 and 8:

It's all a bit of joke, we ventured.

"You're right," the spokesman said. "We're painfully aware of that."

I was taking shorthand notes of our conversation and you asked me whether OCR was aware that this was having a negative impact on students, to which I replied "we're painfully aware of that".

Could I please ask that you correct your story which as it stands is inaccurate.
We're obviously happy to have fixed that. - Ed
Sponsored: Becoming a Pragmatic Security Leader