Street View Wi-Fi slurp nightmare: US Supremes snub Google's appeal
Ad giant must now face up to class-action suit over wireless data grab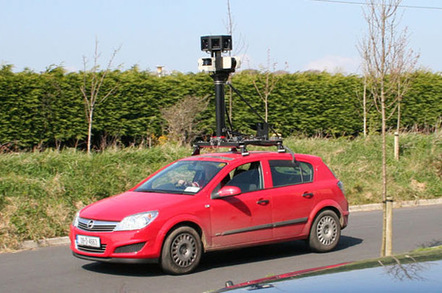 Google isn't quite done dealing with the fallout of its Street View cars' Wi-Fi snooping scandal.
The US Supreme Court on Monday declined to hear the web giant's appeal to dismiss a class-action suit against it. Google will now have to face suit from 18 plaintiffs – Google v Joffe et al – who accuse the ads goliath of illegal wiretapping.
Google had sought to have the case dismissed under a portion of the US Wiretap Act, which the company argued made unencrypted Wi-Fi transmissions exempt from the law on grounds of being generally available to the public.
That argument had been overruled by the US Court of Appeals last year, and the Mountain View company had hoped to argue its case once more in front of the Supreme Court. With the Supremes opting not to hear the case, the opinion of the Appeals Court stands.
"We're disappointed that the Supreme Court has declined to hear the case," Google said in a statement to The Reg.
The decision means that Google could once again face the prospect of a hefty payout over the collection of Wi-Fi data by vehicles which shot images for Street View in Google Maps. Between 2007 and 2010, the company's vehicles gathered wireless network packets from homes and businesses' public and private routers while roaming the streets taking pictures. That data could have included usernames, passwords, email addresses and more.
Amid outrage over the collection of the information, Google blamed it all on a bit of code written by a "rogue" engineer acting without the knowledge or approval of management. It later emerged that the bloke had discussed the project with his boss. Google has faced fines and settlements with government agencies around the globe for violating privacy laws.
While Google settled all of its cases with European and American authorities, the company still faces claims from civil complaints such as the one in this case. ®