HP in 'serious' settlement talks over Autonomy legal bust-up
Wooing shareholders to smooth things over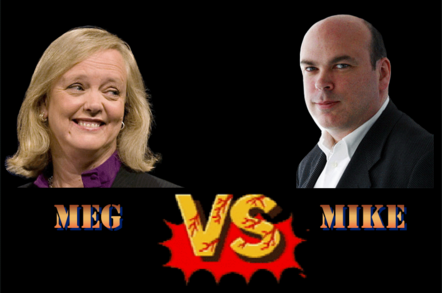 Hewlett-Packard seems poised to settle a lawsuit with shareholders over its $10.7bn purchase of Mike Lynch's software company, Autonomy.
The computer company said in a statement that it is in "serious discussions" to settle the suit, brought in November 2012 by angry shareholders.
"No final deal has been reached yet," HP said.
The shareholders' suit claimed members of HP's management had misled them by allegedly concealing data about the state of the Autonomy business.
In November 2012, HP wrote down $8bn from its financial results and called in the SEC, claiming Autonomy had mis-represented its value before and during the 2011 purchase.
The ensuing lawsuit named HP, former CEO Leo Apotheker (who brokered the deal), current boss Meg Whitman, chief financial Cathie Lesjak and treasurer James Murrin.
Autonomy's former chief executive Mike Lynch went on the offensive with the news. Lynch has consistently denied any problems with his company's accounts and came out swinging on Friday, accusing HP of launching a "smear campaign".
He claimed that in seeking settlement with HP's shareholders, Whitman is throwing cash at the problem while he again accused her of making false allegations about the state of Autonomy in November 2012.
"We continue to reject HP's allegations, and note that over recent months a number of documents have emerged that prove Meg Whitman misled her shareholders. We hope this matter will now move beyond a smear campaign based on selective disclosure and HP will finally give a full explanation," Lynch said in a statement. ®
Sponsored: From CDO to CEO