And now for someone completely brilliant: Stephen Hawking to join Monty Python on stage
He's not a physicist, he's a very naughty boy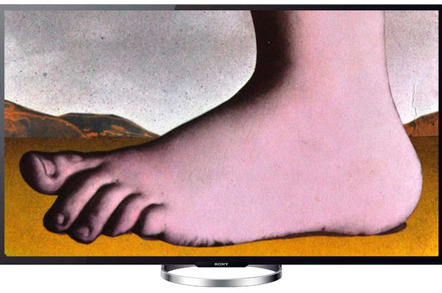 Renowned physicist and boffin of the highest order Stephen Hawking is to join famous 1970s British surrealist comedy group Monty Python on stage in the comedians' first live show in decades.
A video intro at the press conference featured some gentle ribbing from Mick Jagger about the fact that the Python crew – now in their seventies - were "old wrinklies" now...
Professor Hawking was announced today as one of many special guests to feature in the reunion shows at a press conference in London, Sky News, The Telegraph and others reported.
Hawking will appear alongside rock-star yoof-appealing physicist Brian Cox, after he asked to be in the show because he's a "big Python fan".
The Pythons – John Cleese, Eric Idle, Michael Palin, Terry Gilliam and Terry Jones (Graham Chapman passed away in 1989) – will kick off 10 gigs at the O2 in London on Tuesday night. It's the first time the surviving members of the gang have been reunited since 1980. The first O2 show sold out in 40 seconds.
The members said that another 6,000 tickets, 600 for each night, would go on sale at 6pm today to give some latecomers a chance to see the shows. ®