New South Wales' prime plod pushes data retention, again
Police push pwnage of 'net history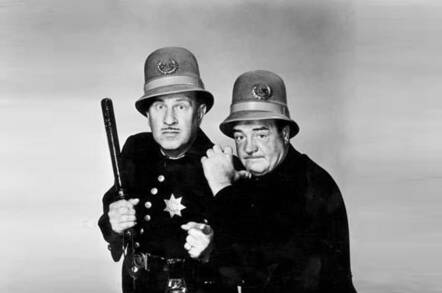 NSW Police, through its commissioner Andrew Scipione, has offered a clear picture of the world it wants for Australians: a plod on every Internet connection to protect us from terrorists.
Scipione made the remarks in a speech to the Trans-Tasman Business Circle, reports of which, such as one from Fairfax Media, suggest he asked: "At what stage does the community say 'we're prepared to give up some of our privacy in order to remain secure?'"
The commissioner also said it was "perplexing" that consumers would give up privacy for discounts but not for policing.
Australia's police forces are keen on implementing a data retention regime in Australia, and in 2012 Scipione argued that any such laws should mandate a five-year retention period.
Successive governments in Australia have supported implementing data retention, but legislation hasn't reached parliament. In May, the Senate extended the reporting date of its review of the Telecommunications Interception Act to 27 August 2014.
Scipione believes that bad PR, rather than the nature of the proposals, lies behind public resistance to his preferred model, telling the Trans-Tasman Business Council that the "angst" was caused by "the communication gap".
Calling it a "conversation that needs to be had" (political code in Australia for "do it my way"), Scipione said law enforcement hadn't "done enough to explain why we need to do it".
In April, the Australian Crime Commission, of which Scipione is a board member, made the same call and complained about the lack of sanctions against uncooperative service providers. ®
Sponsored: Becoming a Pragmatic Security Leader