Amazon Fire: Who needs a WAREHOUSE when you have a global ADS PLATFORM?
Analyst sees tat emporium's empire surging into China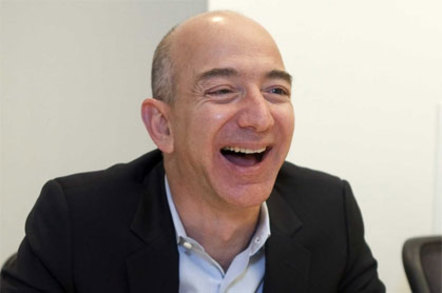 Amazon could use its new Fire phone to help fight its way into countries where it doesn't - or can't - operate warehouses, says an industry analysis firm.
That's the opinion of an analyst at tech beancounter Canalys who believes Amazon's new Fire phone offers the opportunity to roll out a global advertising system of potentially unparalleled scope.
We already know that the Fire phone is a superb mobile shopfront, but if the phone catches on, it could be used to sell adverts for goods that Amazon doesn't stock.
Tim Coulling, senior analyst at Canalys, said the announcement of the new Fire smartphone revealed more about Amazon's advertising ambitions than it does its phone hopes. He said Amazon could be interested in trying to sell apps or ads to people in countries like China, where there are no Amazon "fulfilment centres".
Think of the sheer amount of data held by the High Street Herod, which includes everything from name and gender to credit card details and buying habits. It's not much of an exaggeration to say that traditional online ad giants like Facebook and Google would kill for that kind of information.
Coulling said: "Amazon only have warehouses in a handful of countries. They are looking to be a global player, so selling adverts in countries which they don't shift products is a way of targeting more users and driving more revenue. Amazon are very small in China, so there is a huge opportunity for them.
"I would speculate that they will try to move into markets where they haven't got a physical retail presence by offering digital content," he continued. "A phone could lock customers into the Amazon ecosystem."
Of course, this strategy has not yet come to pass because the Fire is only available in the United States, although it is expected to roll out in other countries if it flies off the shelves.
Amazon is unlikely to judge its success with the Fire on how many units it sells, Coulling reckoned, but instead will probably focus on how much stuff it has persuaded owners to buy.
"If Amazon can build up an network to deliver adverts to people, they may have found a space in which it can be very successful," he said.
If the advertising suspicions are true, Amazon would be entering a lucrative sector. According to figures compiled by market research firm eMarketer, retail sales from smartphones in the US are set to soar by 25.4 per cent this year to reach $18.49bn. In the UK, smartphone retail sales are predicted to reach £4.65bn by the end of 2014.
"An Amazon smartphone would be less about profiting from device sales and more a way to pocket a larger share of multiple revenue streams, such as mobile retail sales, mobile content and advertising," said Cathy Boyle, senior mobile analyst at eMarketer.
She predicated that the Fire would serve as a sort of kamikaze mission for Amazon, aimed at attracting enough developers to fill its app store, which, at just over 200,000 apps, is nowhere near as large as Apple's app store or Google Play.
"The first version of the Fire phone is not going to be a blockbuster device," Boyle added. "They may focus on building up the app store, rather than building up market share. It's a beginning. If Amazon see people buying more and more when using this phone, it will mark an interesting starting point."
So are we are all about to be snared in Amazon's great advertising web? Not any time soon, added Michael White, a professor at the IMD business school in Switzerland. In an email, he too predicted that the Amazon phone would "flame out" due to its poor performance, small app selection and cost.
We're safe for now, but Amazon will keep on coming back like Lazarus on a promise, he reckoned.
"For now I predict that sales of the Amazon phone will be slow and the company will sustain heavy losses (like the Facebook phone that preceded it). However, Amazon will not give up and will release a second version within a year that will be much improved.
"It will still not be the number one phone," continued the prof, "but it will make the big competitors nervous, spurring innovation and price cuts across the industry. The net effect will be a win for consumers – cheaper and better products." ®
Sponsored: How to get more from MicroStrategy by optimising your data stack