Walmart in iPhone 5s, 5c price slash – gotta make room for that 'iPhone 6', right?
Plenty of fuel for the rumor fire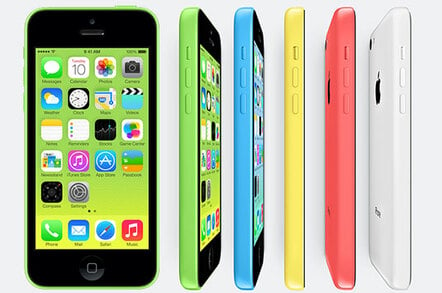 Walmart has cut the prices of iPhone 5 handsets in its stores to, it's assumed, make way for Apple's next smartphone.
The retail goliath on Friday slashed the cost of the iPhone 5s and iPhone 5c smartphones when users purchase a two-year mobile contract.
The 16GB iPhone 5c will now start at just $29, down from a previous price of $49. The 16GB iPhone 5s, meanwhile, will see its price cut from $149 to $99. Both prices will be offered for in-store purchases with plans from Sprint, Verizon and AT&T.
The prices will bring the cost of the iPhone at the big-box retailer further below those offered at the Apple store, and would suggest that Walmart, which typically amasses huge stocks of the products it sells at its stores, is looking to dump its stock in the coming months.
In case you haven't yet figured out where this is going, speculation has picked up in recent weeks that Apple is ramping up factory production of the next version of the iPhone. Chinese manufacturing partner Foxconn is said to be taking on 100,000 workers as it begins assembling the new iPhones on a schedule which would put the new handset on track for general release by the late summer or early Fall.
Apple has typically targeted that time slot in the past to first publicly unveil and then release to retail the new iPhone model. The release of the hardware will likely coincide with that of the iOS 8 firmware release.
This year's crop of rumors has included speculation that Apple will be releasing a larger model with a 5.5in screen and an accompanying iWatch wristband gizmo. ®
Sponsored: Quit your addiction to storage