Farewell Felix Dennis, deal-maker supreme of tech publishing
When it comes to getting rich, he really did write the book
He did WHAT with a flock of sheep at his country pile?!
Felix now had an awful lot of money, and had acquired a manor house and his first Rolls Royce. He told me he'd gone into the showroom, asked how much that one was, been told if sir has to ask then sir can't afford it, and had therefore bought it on the spot.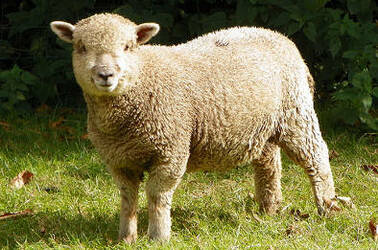 Baaa: Felix Dennis reportedly had a flock of these outside his gaff
The manor had initially been set in working farmland but - it was alleged to me by high-level Dennis executives - Felix was being disturbed in the mornings by noisy tractors. So he bought the surrounding farmland. Then one morning he woke up, looked across his empty acres and thought "Something's missing - I know, sheep!" Few financial directors of major publishing houses have ever been tasked with securing an emergency sheep transfusion.
It turns out most of the period I worked for Felix coincided with his cocaine period, but although he later claimed he'd spent improbably large amounts of money on drugs, I got the impression he was spending mad amounts of money on mad projects as well, and it was still coming in faster than he could cope with. But drugs or not, he always seemed perfectly lucid to me, albeit often in a shouty-sweary kind of way.
He'd parachute into the new corporate HQ (proper offices at last), where the casualties in the reception fish tank would have been replaced, copies of The Tree (no, really, he did launch that) had been put back out and the painting of him and the other Oz defendants, nude, had been hung back up in preparation for his visit.
But these were flying visits, and by the time Dennis Publishing was launching Maxim he wasn't the one who was really driving. Felix may or may not have been involved with the introduction of the pair of ur-hipsters who came up with the original idea, and I suppose he might later have been involved in tossing most of their plans and launching the product that actually worked. But most of the pre-launch work was done in his absence, and the Dennis management of the time (myself excepted - I reckoned we shouldn't get into areas we knew nothing about) deserve credit for developing and launching one of the company's biggest successes.
Whichever way it was it made lots of money for Felix, of course, but he had lots of money already. The Week, however, was Felix. He didn't launch it, but he spotted its potential, and it's now huge. I could mention - OK, I will mention - that I didn't like this one either. Jumped-up news aggregator for people too self-important to read stuff, I may have said at the time.
Going down guns blazing - and the first germ of El Reg
My parting of the ways with Dennis Publishing was sort of Shopper related. Felix was making a ton of money out of the UK edition but was worried about competition. Ziff Davis was belatedly interested in the UK, and given that it couldn't launch Shopper, it was likely to launch against it. Felix had taken MacUser fortnightly in an expensive and painful process, and told me he was never going to make that mistake again. So… launch against yourself. Two monthly titles publishing two weeks apart, no space for the opposition to get in: sorted.
This lost a great deal in the execution, not helped by most of the principals probably not having got what it was they were supposed to be producing and why. As a Shopper equivalent it failed, and what came out was an under-resourced me-too computer monthly. Cue one of the Dennis Publishing cashflow crises (possibly the last - the company was going legit), cue me getting the job of doing something about it, but there's no more money. Suicide mission.
So a little shy of a year down the line, the numbers have picked up, but not - predictably - where I'm sitting. Felix had decided I'm it, no amount of firing facts back at him is going to change that, and I go down all guns blazing at a board meeting while the board apart from Felix becomes strangely interested in their fingernails. Afterwards, Felix comes up to me and congratulates me for sticking to my guns.
I know that's a bit too much about me, but it's very Felix as well. He decided what (or indeed who) he was going to do, facts immaterial, did it, but he liked people who didn't roll over. I didn't get fired, but I did get relieved of command and I reckoned it was probably time to go. Which is possibly why you find me here. But farewell, Felix, you taught me a lot. I've ignored most of it, and that's entirely my own fault. I still have trouble with the forest stuff, and how you transformed from a fire-breathing hippy entrepreneur into some bizarre combo of twinkly grandad and edgy version of Pam Ayres. But hey, you seemed happy enough. ®
* In a number of areas this obituary may not be entirely accurate. Some of it I was told by Felix himself, whose talent for embroidery was well-known, while other anecdotes will likely have been embroidered by other hands before they got as far as me. But a lot of it's too good to check anyway. And anyway, what's wrong with a bit of embellishment? It's what he would have wanted.