Verizon to turn LTE faucet back on for Chromebook Pixel users
Says its sorry promo service ended 'prematurely'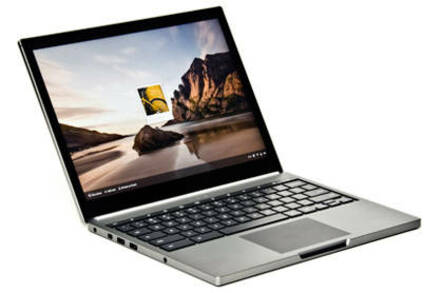 Verizon Wireless says it will work with Chromebook Pixel owners whose free LTE service was prematurely cut off to ensure that they get their 100MB of monthly mobile data for the full two-year period that was promised.
Earlier we reported that some owners of the LTE edition of Google's pricey Chromebook Pixel were claiming that their free wireless data had been suspended after just one year, despite the devices having been marketed as coming with two years of free service.
Google moved quickly to appease the disgruntled owners, offering them $150 gift cards that they could use to buy LTE data service or anything else they pleased. But it said the service interruption was "outside its control," and Verizon was curiously mum on the matter – until now.
A spokeswoman for the carrier told The Reg on Wednesday that affected Chromebook owners should sit tight while it sorts the matter out.
"We understand that a very small number of Chromebook Pixel customers may have had a promo end prematurely," the company said in an emailed statement. "We apologize for this, and will work with these customers to address the situation."
It's not entirely clear, however, whether restoring Chromebook owners' service was always the company's intention or whether the negative media fallout may have caused it to have a change of heart about cutting them off.
Or perhaps it was the rumblings from Boston law firm Block & Leviton, which claimed to be investigating what it described as Verizon's "misleading advertisements," "breaches of contract," and various other dire-sounding sins.
Whatever Verizon's motivation, however, it sounds like Chromebook Pixel owners should have their free LTE service restored posthaste. So fear not, Pixel fans – you'll get your full $1,449's worth after all.* ®
* Note: Subjective statement.
Sponsored: Detecting cyber attacks as a small to medium business