Microsoft tests HALF-INCH second screen to spur workplace play
Stop your yammering and use 'glanceable' device to make yourself feel at home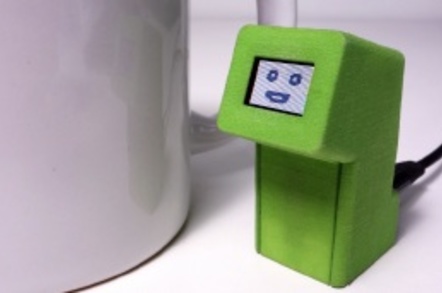 Microsoft Research has detailed a tiny device called "Picco" that pipes sketches to users to make the workplace more feel more intimate.
Detailed here in a research paper titled "A Small Space for Playful Messaging in the Workplace: Designing and Deploying Picco", Microsoft Research explains that Picco is "a tiny situated display for drawings and simple animations, which are created on a dedicated tablet app."
Picco is 4.5cm tall, packs a 52x36px OLED display measuring about 1.2x0.9cm and is said to be "glanceable" inasmuch as it is so small that it can sit next to a computer or monitor without attracting the eye.
Picco was built to test whether playful technology can find a home in the workplace. As the paper notes "... technologies that explicitly support playfulness are often discouraged at work, and workers are unlikely to make visible the fact that they are using communication technologies for purposes other than those that are strictly work-related and functional."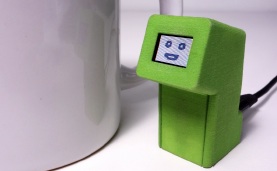 Microsoft's "Picco" half-inch second screen
That may not be a good thing, because the authors say people do like a bit of playtime in the office and "Informal exchanges occur face to face as well as through technological mediation, and they have an important role to play in supporting workplace cohesion".
Picco introduces play to the workplace with its companion app, which allows users to make a sketch or short animation – a "Picclet" - and then send it to a Picco device owned by someone on their buddy list. When the Picclet arrives in a Picco (thanks to WiFi) the device vibrates. Receivers can acknowledge receipt with a tap.
Microsoft tested Picco in two group of interns and a family. All groups found the device amusing, but also reported that Picco and Picclets were useless for any functional or meaningful communication. Subjects, did, however, feel that the appearance of Picclets made the workplace feel a little more intimate.
"Two studies of the device at work demonstrated how crafting was an expression of intimacy when the device was used to connect the workplace to the home, and a way of demonstrating skill and humor to a broad audience when messages were sent amongst co-workers," the paper reports. It also says Picco helped to personalise workspaces, but some testers felt left out because they were either lousy artists or couldn't make clever messages. As the paper puts it, "the level of skill needed to produce these messages became a barrier to entry for some co-workers."
The paper doesn't explain whether the Picco team set up a control group that was only allowed to use superhero figurines and instant messaging to create personalised workplace playfulness zones. Vulture South suspects those ancient practices may have been just as effective as Picco. The latter's reliance on an Azure-hosted app to drive it, and Microsoft's devices and services mantra, probably explains the absence of the control population. ®