3CX WebMeeting reviewed: Youthful, but full of promise
Video-conferencing made easy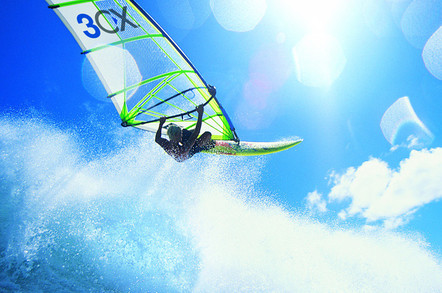 3CX has released its newest WebMeeting videoconferencing solution. As I still had the virtual machines from my testing of its software PBX rattling around my lab, trying this latest offering seemed like a good plan.
After some fits and starts it tested out well, better than I had expect from a 1.0 product.
Unified communications is a space in which I have been investing a lot of time. The big players seem to be Microsoft (Lync and Skype) and Cisco (CallManager and WebEx).
There also are any number of smaller players, from the nearby SIP provider I use (Planet Telecom) up to mid-sized organisations with great customer lists, like 3CX itself.
I am both a full-time sysadmin and a full-time writer and I need a proper communications infrastructure to support my endeavours. I spend a lot of time on the phone in briefings and doing interviews. I do a lot of web meeting demos and live and breathe this stuff when I am doing tech support.
In my searches, I have tried many webinar products from different companies. Some, such as ClickWebinar, were unmitigated disasters, with a broken product and even worse support. Others, like WebEx, just work – but to call them a little on the pricey side is being a little generous.
What I want is the simplicity and cost effectiveness of my (very accommodating) SIP provider, the unshakeable public-facing webinar reliability of WebEx*, the technical support capabilities of TeamViewer and the global contact list capabilities of Skype – and all from a company I can trust.
Does 3CX offer this magical combination? No – but it comes the closest among products I have worked with so far.
The basics
WebMeeting has two components. The first is integration with your 3CX Phone System server. This allows staff who are running the 3CX softphones to launch a web meeting with a few simple clicks.
The second component lives in Microsoft Azure and is where most of the real heavy lifting takes place.
First you go to the conference tab. Next you "create a web meeting". (Click to enlarge screenshots.)
Don't forget to tell everyone what the meeting is about
Select the options you require and upload any documents that you want attendees to have to hand. (A slide deck, perhaps, or a pre-briefing they should read.)
The options are few but clear
Select any participants internal to your organisation (those who have accounts on the 3CX server that your instance of WebMeeting is tied to) and then add any external participants you wish to invite by entering names and email addresses.
Invite your Robotic Overlord
The Azure component of the exercise will then email everyone involved (all messages appears to pass through a Symantec messaging gateway on its way to participants). The email will include a calendar invite and a link to join the meeting. The emails sent to the host and the participants are almost identical.
If you don't have the 3CX client installed then clicking on the link in the email will prompt you to install it. You then need to go back to the link in the email and click a link on the webpage to join the meeting.
Unfortunately, if you are using a properly defended browser, the web page can't sense that you have the application installed, so you get a great big "download client" button and a small, barely noticeable "click here to join the meeting" link. This needs to be bigger.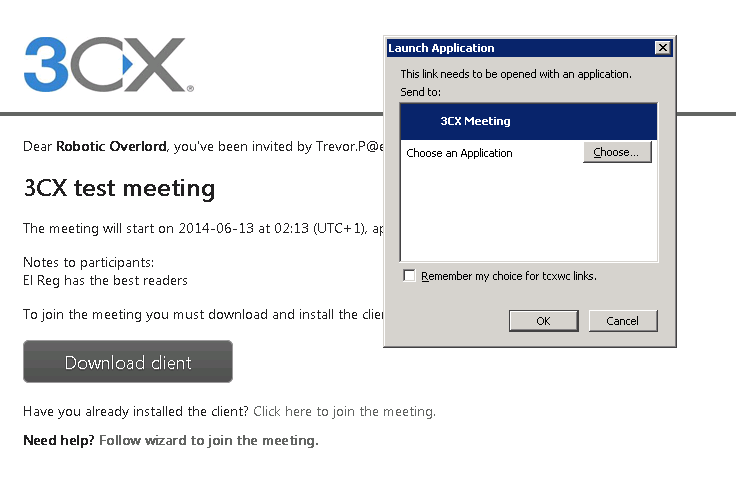 Requires embiggening
After that, the software launches and it waits for the host to start the meeting.
The meeting software itself is… meeting software. Meeting software really hasn't changed much in about two decades.