Shine on you crazy diamond: Distant dwarf may hide space jewel
Cool dim star? Insert your Keanu Reeves joke here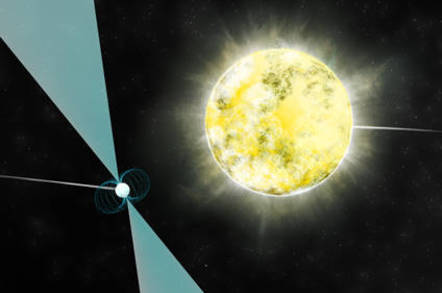 Astronomers say they have discovered a white dwarf star that could be the coldest of its type ever detected.
The boffins said that the dwarf star resides alongside the pulsar PSR J2222-0137 and could hold at its core a diamond the size of the earth. Estimates would place the star's age at 11 billion years, roughly the same as the Milky Way galaxy.
White dwarf stars, because of their small size, appear extremely faint, and so can be incredibly difficult to spot from Earth – even with high-powered telescopes.
The team, drawing on data collected from the National Radio Astronomy Observatory (NRAO), Green Bank Telescope and Very Long Baseline Array (VLBA) observatories said they were able to detect the extremely faint star some 900 light years away by observing the gravitational effect the star had on its companion pulsar's radio signals.
"It's a really remarkable object," said team member and University of Milwaukee Wisconsin professor David Kaplan.
"These things should be out there, but because they are so dim they are very hard to find."
Despite being slightly more massive (1.05 times) than the Sun, the dwarf is believed to be 5,000 times cooler. The 3,000 kelvin temperature would possibly make it the coldest known white dwarf.
At the heart of the star, say researchers, is a mass of crystallized carbon described as "diamond-like" and roughly the size of the Earth, formed from the center of the collapsed star.
The massive rock wouldn't be the first time astronomers have spotted a space-diamond orbiting pulsar. In 2011, Australian researchers used a similar detection method to spot a crystallized carbon mass around the pulsar PSR J1719-1438.
Another diamond planet was said to possibly be orbiting the star 55 Cancru e, though the composition of that planet has been questioned. ®
Sponsored: Becoming a Pragmatic Security Leader