Google Nest slurps your life into the Matrix? The TRUTH
Cofounder speaks out over privacy fears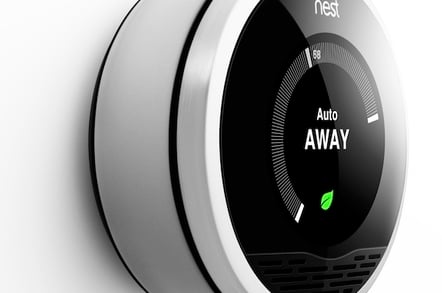 Thought your home was safe from corporate surveillance? Think again, because thermostat-maker Nest is set to share your personal data with its mother company, Google.
Nest Labs has admitted to the Wall Street Journal that personal assistant system Google Now will be among the first non-Nest apps to connect to Nest sensors and exchange data.
For example, Google's personal assistant app Google Now can be used with a Nest thermostat to set the temperature of your home from afar, to stop that awkward freezing feeling from ruining the surveilled citizen's day. Other gizmos, such as devices for opening garage doors and switching on lights, can tap up Nest thermostats for live information about your home.
In a blog post announcing its new developer programme, Nest mentioned its thermostats can now be put into "away mode" when you go on holiday – allowing connected apps to turn your room lights off and on to trick burglars into thinking someone's at home.
"We're not becoming part of the greater Google machine," insisted Matt Rogers, co-founder of Nest.
Bear in mind, Rogers said in January: "Our privacy policy clearly limits the use of customer information to providing and improving Nest's products and services."
Google just spent $555m on buying video camera flogger Dropcam, with an eye to using its technology to allow users to keep a watchful eye on their home. Dropcam allows streaming video to be sent from homes to the cloud, as well as triggering devices in the case of a burglary or other events.
Nest also put out a list of companies which are developing stuff which will fit in with it "Works With Nest" scheme.
These include a Mercedes Benz motor that notices when you're driving home so – you guessed it – the heating can be switched on. "Human centred wearable technology" outfit Jawbone is also planning to use their UP fitness app/bracelet combo, to detect when someone gets out of bed so – shock – the heating can be switched on. What a time to be alive. ®