Glastonbury debuts festival wide Wi-Fi network - fitted to COWS
A moo-ving moment in Somerset shindig's history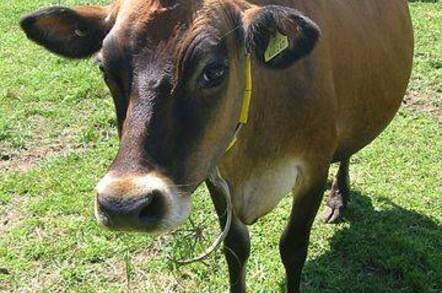 It's one of the great problems of modern times. How does the average thirty-something festival-goer send their friends a Yo while off their chops in some far-flung field?
Luckily for the ageing denizens of Glastonbury, EE has stepped in with a flock of Wi-Fi equipped cows to make sure no meal remains un-Instagrammed and no snotty musical opinion goes un-tweeted.
The brightly coloured "Highspeed Herd" of fibreglass cows are all fitted with 4G routers and are modelled on the real bovines which call the fields of Worthy Farm home during the festival's fallow periods.
Spencer McHugh, director of brand at EE, said: "Staying connected has become an essential part of any festival-goer's experience and we are thrilled to be back supporting Glastonbury Festival, helping to ensure those on site have the best possible experience."
At the first Glastonbury festival in 1970 revellers were greeted with free milk, whereas nowadays they are more interested in free Wi-Fi and designer yurts.
With this in mind, it could be argued that the Wi-Fi cows are emblematic of the music festival's shift from being a love-in for long hairs to a corporate branding exercise of stratospheric proportions.
When this writer first visited Glastonbury, he paid a fiver to an LSD-dealing pig farmer and was smuggled on site in his truck. Huge numbers of other people leaped the fence or paid off guards to get inside, giving the fes the feeling that people without tickets actually outnumber proper punters.
These days entry is a more controlled affair, with double perimeter fences and even watchtowers to deter rebel revellers from storming inside. The age of Glasto-goers has also crept up since it stopped being a hippy free-for-all, with the average festival attendee aged 36 years of age.
For the ever-aging festival goer, it's no longer about living fast and dying young. As every thirty-something knows, pensions don't pay themselves. ®
Sponsored: What next after Netezza?