FCC to spend $2 BEEELLION to install Wi-Fi in US schools
Telephones and pagers not cutting it anymore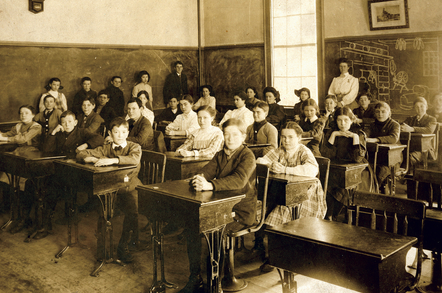 The US Federal Communications Commission says it plans to outfit the nation's schools and libraries with Wi-Fi and high-speed broadband connections, and it has earmarked $2bn to do it.
"The simple fact of the matter is that the free market has failed to provide basic broadband connectivity to more than 15 million Americans," FCC chairman Tom Wheeler said in a Friday blog post announcing the proposed initiative.
The FCC already provides funding to bring the internet and other communications tools to schools and libraries via a program called E-Rate. But Wheeler has been harshly critical of that 18-year-old program since he took office in November 2013, saying it's outdated and that its funds go to the wrong places.
"This proposal will also begin a multi-year transition of all E-Rate funding away from 20th Century technologies, like dial-up phone service and pagers, to 21st Century broadband to every classroom, while maintaining flexibility to meet the needs of individual schools and libraries," Wheeler wrote on Friday.
The proposal [PDF] would have the FCC spend $2bn over the next two years to bring Wi-Fi to schools, with particular attention paid to rural communities that have been underserved in the past. Previously, Wheeler said, E-Rate has only been able to fund Wi-Fi in 5 per cent of schools and 1 per cent of libraries, and no money was available for Wi-Fi last year.
The focus on Wi-Fi is so that students can have access to modern teaching tools such as tablets and digital textbooks. While the cost of these devices is going down, Wheeler observed, three out of five US schools lack the in-classroom Wi-Fi that's needed to make them useful.
The plan would also begin the process of phasing out support for old-school tech [Some pun intended.—Ed.] and focusing the E-Rate program's efforts on broadband. Currently, half of all US schools have aging wiring that can't support high-speed connections, Wheeler said.
In addition, Wheeler would like to see E-Rate be more generous with its funds. The new plan proposes setting the program's payout rate for the poorest schools to four dollars for every dollar the school chips in.
Along the way, the proposal would introduce various procedural changes designed to make E-Rate more efficient and drive down costs, such as making it easy to apply, expediting low-cost proposals, and moving to electronic filing for all documents. It also aims to crack down on fraud and abuse, which have plagued E-Rate in the past.
All laudable goals. But as in all things governmental, the wheels of progress move slowly, and Wheeler's proposal has a way to go before it becomes policy. The next step is for the FCC to discuss the plan with the public at its next open meeting, due to take place on July 11. ®
Sponsored: How to Process, Wrangle, Analyze and Visualize your Data with Three Complementary Tools