Infosec bods try Big Data in search for better anti-virus mousetrap
It might not be a meaningless marketing term after all...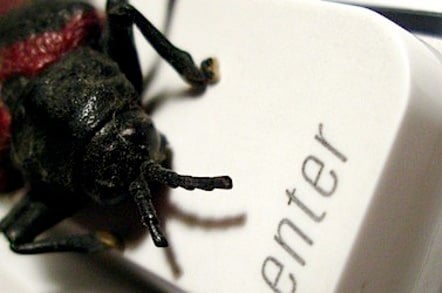 Infosec house Panda Security is looking to Big Data and application monitoring as a means to achieve better malware detection.
The launch of Panda Advanced Protection Service (PAPS) is a response to the widely known shortcomings of signature-based anti-virus detection as well as a means for Panda to sell extra services. The technology will be marketed to larger firms as well as offered through cloud tech partners, such as Spanish managed security services firm Indra.
PAPS is designed to identify vulnerable apps and block exploits against trusted apps. The latter function differentiates PAPS from whitelisting technologies from the likes of Bit9, according to Josu Franco, veep of corp development at Panda. PAPS work with a lightweight software agent on endpoints that feeds into a Big Data analytics and classification system backend. The system includes a semi-automated process to deal with false positives as well as a means to generate forensics reports and alerts.
The sheer volume of malware production has long outpaced legacy blacklisting techniques based on recognising known bad apps by their signatures. In response security vendors have developed technologies such as heuristics (generic detection of similar malware), whitelisting and cloud-based technologies.
Most modern security scanners incorporate all these technologies despite marketing claims by rival vendors to the contrary. However in the cat and mouse game between defenders and virus writers the bad guys are still consistently able to evade detection. Estimates vary but as even the more optimistic suggest that one in five nasties slip past security defences.
Brian Dye, Symantec's senior vice president for information security, recently declared that "antivirus 'is dead' and no longer a money maker. Dye made the remarks to the Wall Street Journal is advocating that vendors such as Symantec should focus more or detect or respond rather than protection. Such sentiments reflect the thinking of challengers to more established anti-virus firms, such as FireEye and Imperva, but are surprising coming from Symantec - which still pulls in 40 per cent of its revenue from anti-virus.
Panda - like most of its peers - argues that anti-virus technology still has its place as something that's necessary, albeit insufficient.
"Anti-virus is a cost-effective means to detect and stop known attacks," said Luis Corrons, technical director of PandaLabs.
Diego Navarrete, recently appointed Panda chief exec, told El Reg that anti-virus was here to stay, even though it needed to evolve. "The king is dead. Long live the king," he said. Navarrete claimed that Panda was itself big enough to compete with other vendors that might be looking to all-too fashionable Big Data technologies as a tool for containing the malware threat. Other vendors looking to apply Big Data in the fight against malware include Splunk, Symantec and many others. ®
Sponsored: Detecting cyber attacks as a small to medium business