Rising Red Hat reaps rewards of cloud growth
Q1 results buoyed by customer adoption of emerging tech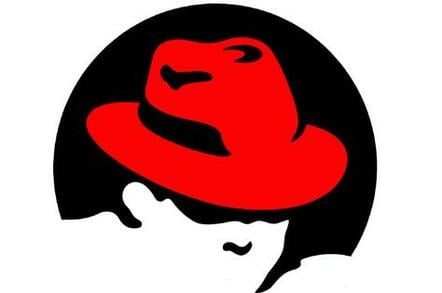 Open source software vendor Red Hat once again showed strong growth in the first quarter of its fiscal 2015, with rising revenues driven by strong sales to enterprise customers.
"We now count 94 per cent of the Fortune 500 and 90 per cent of the Fortune Global 500 as customers," Red Hat CEO Jim Whitehurst said in a canned statement on Wednesday. "As evidence of this demand and Red Hat's strong market position, we closed a record number of first quarter deals of a million dollars or more."
Those millions added up nicely. Total revenues for the quarter were $424m, a 17 per cent year-over-year increase that beat analysts' expectations.
Of that total, 88 per cent or $372m came from subscriptions to Shadowman's various software offerings – an 18 per cent increase over the year-ago quarter – with the rest coming from consulting and other services.
In a conference call with financial analysts, Whitehurst said that 86 per cent or $319m of those subscription revenues came from the company's infrastructure offerings, which mainly means Red Hat Enterprise Linux. The final version of RHEL 7 launched on June 10, just shy of the quarter's May 31 close.
While those infrastructure revenues were up 14 per cent from the year-ago period, however, the real growth came from the company's JBoss application development and middleware products, and emerging technologies such as the cloudy OpenStack and OpenShift. Combined revenues from these categories were $53m, an impressive 45 per cent increase over the year-ago quarter.
Red Hat is planning to continue to invest heavily in those cloud infrastructure offerings, and during the call Whithurst said the company's R&D costs were up 22 per cent in the quarter, due largely to hiring new developers to work on OpenStack.
The company also announced on Wednesday that it plans to acquire French cloud consultancy eNovance in a deal valued at around $95m, in an effort to improve Red Hat's OpenStack service capabilities.
Some of those cloudy investments hit Red Hat's bottom line, however. Although revenues were up for the quarter, net income was only $38m, a 5 per cent decline from the same period a year ago.
Yet despite this, Shadowman's earnings remained solid. Excluding items such as taxes, amortization, and stock-based compensation, the company posted earnings of $0.34 per diluted share, beating analysts' estimates by a penny.
That news pleased investors, who promptly sent Red Hat's share price up 5 per cent in after-hours trading. ®
Sponsored: Becoming a Pragmatic Security Leader