BT and TalkTalk BOTH claim victory as Ofcom tackles fibre price row
Margin squeeze: Freedom is all relative, don't you know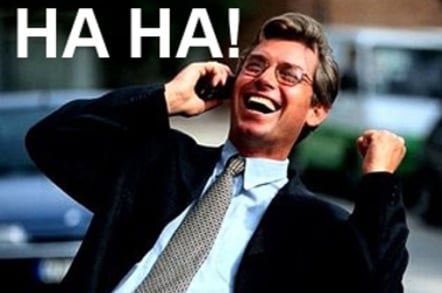 TalkTalk claims it has won a crucial battle in its war on BT's alleged stranglehold of Blighty's fibre broadband market.
Today, Ofcom proposed regulating the way BT sets its prices for superfast broadband – to ensure there's an ample margin between the amount it charges ordinary folks and the amount it charges rival ISPs to use its fibre network.
TalkTalk had complained BT was unfairly setting its retail prices too low and wholesale prices too high, therefore allegedly using its dominant position as a former state monopoly to squeeze out the competition.
That claim was rejected this morning by Ofcom, even though the regulator proposed new rules for BT on broadband pricing. TalkTalk insisted to The Register that it wasn't fazed by this outcome.
"Not taking it as a snub at all," a spokesman at the budget ISP told us.
"We've been 100 per cent focused on getting fibre robustly regulated for the next three years and that's exactly what Ofcom is setting out today. For us the future is the most important thing. It's a big move where BT had effectively complete price freedom and soon they will not."
But BT hit back at that claim.
A spokesman at the telecoms giant chided: "It's like Spain's manager saying they've had a good World Cup!"* He added to El Reg:
There's no direct link between the test and any decision about whether to control our wholesale fibre prices in future. In fact, as Ofcom said in May, BT has the freedom to set its own wholesale prices for the next three years.

Now they'll obviously assess that again in the 2017 market review, and the risk of intervention inevitably increases over time, but if anything an effectively policed margin squeeze regime probably reduces the need to regulate the wholesale price.
TalkTalk said in an official statement: "We have long maintained that the time has come for fibre to be more robustly regulated, starting with a margin squeeze test.
"This leads naturally towards full price regulation in 2017. What matters most is ensuring a level playing field and competition for fibre in the future. Once implemented, these new rules will make British consumers and businesses better off."
Ofcom said in its provisional ruling today that the proposed rules would allow rivals in the market to "profitably" match BT's prices.
The regulator explained:
Different operators currently retail superfast broadband over BT's network, using a process known as 'virtual unbundled local access' (VULA). BT has flexibility to set the wholesale price for providing this access to its network.

Today's proposals preserve that pricing flexibility, while seeking to ensure that BT does not set prices in such a way that prevents other operators from competing profitably for superfast broadband customers.
Ofcom added that the rules would be widened to include BT Sport, which is provided free to its superfast broadband customers. Costs and sales of the company's sport channels will be taken into account, the watchdog said.
A spokesman for TalkTalk, run by ex-jockey Dido Harding, told the Reg the ISP was delighted with that particular proposal.
A final decision from Ofcom is not expected until later this year. A consultation process is now open, which runs until 28 August, the regulator said.
BT, in its official statement, said it welcomed the consultation period.
"We hope it results in regulatory clarity and certainty, and discourages spurious claims such as that made by TalkTalk," BT added. "There is strong competition in the UK broadband market and we are confident our pricing will pass any regulatory test that may be put in place. It is important that Ofcom encourages investment as well as competition, and recognises the full costs involved in deploying fibre."
Ofcom noted that the superfast broadband market had significantly grown since the watchdog first told BT to offer other ISPs access to its fibre network.
"[T]here were fewer than 100,000 superfast broadband connections provided this way. That number has now risen to 2.7 million, and take-up is expected to increase further over the coming years," the regulator said.
Since 2010, BT has been offering rival telcos the opportunity to pass on faster broadband services to their customers with a VULA product, which was waved through by Ofcom without placing a regulatory price cap on the service.
At the time, the watchdog said BT's £2.5bn fibre deployment in the UK would be stifled if the company didn't have the freedom to set its own costs for VULA, which gives competitors virtual control of customer lines, relying on BT's equipment in exchanges.
The proposed rules are expected to come into effect by the end of 2014. ®
* For the footie fans among you, reigning champs Spain were ingloriously knocked out of the World Cup yesterday after competing in just two matches in the tournament.
Sponsored: Becoming a Pragmatic Security Leader