Samsung peddles tyred Smart Bike concept
Arduino and camera in the frame Galaxy in the handlebars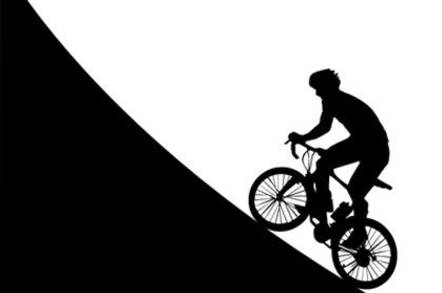 Samsung has started peddling a smart bicycle prototype.
The self-propelled two-wheeler includes a battery, rear-facing camera, WiFi and Bluetooth routers of some sort and "laser projectors".
The latter devices let the bike shine bright red lines on the road, the better to warn motorists of riders' presence. The lasers will switch on when your smartphone, a Samsung of course, detects that light has become sufficiently low that a little illumination will enhance your safety.
Your phone will clip to a bike's stem (the bit connecting the handlebar to the front forks) thanks to a magnetic connector. WiFi and/or Bluetooth will beam images from the rear-facing camera into your smartphone, so you can see that colossal truck that's about to come and run you over.
Samsung's also imagining that by gathering data about rides, thanks to a phone's GPS, it will be possible for governments to figure out where cyclists go and either build them bike paths or make bike-friendly traffic arrangements.
The prototype is, to be frank, greenwashing. It's possible to buy phone holders and laser lights for bikes. Apps like Strava already offer huge quantities of data one could use to analyse cyclists' behaviour. Cameras galore are popping up on Kickstarter, some like the Fly6 combining imaging devices and lights.
Samsung's curved frame is cute, but there's a reason hundreds of bike-makers around the world keep their frames straight, especially when working in Samsung's preferred aluminium.
At least the Korean company is not alone in thinking about bringing intelligence to bikes. Apple has a smart bike patent and Audi has pondered a PC-powered, pedal-driven contraption.
There's a naff corporate video describing Samsung's efforts here. ®
Bootnote
Samsung's effort shows at least one thing: it's much easier to pack communications, computing and GPS onto a bike than in the days of Steven Roberts' BEHEMOTH (Big Electronic Human Energized Machine, Only Too Heavy), shown in the video below.
Sponsored: Becoming a Pragmatic Security Leader