Bankrupt Bitcoin blunder bunker MtGox finds a friend to fend off out-of-pocket investors
Court awards protection from pitch-fork-waving alt-coiners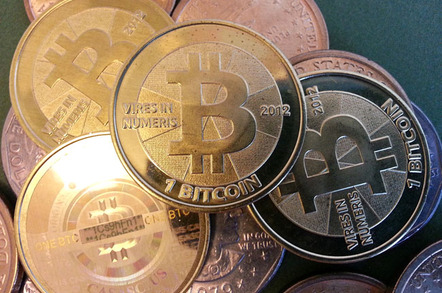 Tokyo-based Bitcoin blunder exchange MtGox is officially under US bankruptcy protection, after a Texas court granted approval to start Chapter 15 proceedings for the failed marketplace.
MtGox applied for bankruptcy protection in the US and Japan, and has put together a plan to settle class-action sue-balls investors have lobbed at it. The collapsed company ultimately wants to get back in business.
The exchange used to be the top platform for trading in Bitcoin, but shut down earlier this year after it said it lost about 850,000 of the digital currency coins, worth around $500m at current prices. It later said it had handily found 200,000 Bitcoins in old wallets, although it's still unclear exactly what went wrong over at the firm.
Shortly after admitting to losing everyone's money, the lawsuits started piling in so the exchange filed for protection in Japan and the US to stop investors from seizing its assets.
Then in April, it said it had reached an agreement with US and Canadian investors that would see the exchange sold to Sunlot Holdings, with a 16.5 per cent stake and a share in the found Bitcoins for the investors. If the settlement is approved by the courts, members of the exchange could see an immediate divvying up of the Bitcoins MtGox still has. A new exchange would then be created, with existing investors taking a stake.
MtGox founder Jed McCaleb and chief marketing officer Gonzague Gay-Bouchery have agreed to cooperate in a class-action lawsuit against MtGox: the pair are named as defendants along with the exchange itself, its owner Tibanne KK, the Mizuho Bank, and various employees at the exchange – including CEO Mark Karpeles.
Sunlot, which is backed by one-time child actor Brock Pierce (of The Mighty Ducks fame) and venture capitalist William Quigley, has offered to buy MtGox for one Bitcoin – around $600.
As well as approval in the States, the settlement also needs the Tokyo District Court overseeing its bankruptcy in Japan to agree. ®