THREE'S A CLOUD! Microsoft veep says only Azure, Amazon, Google can do hyper space
No hint of a threesome between rivals, though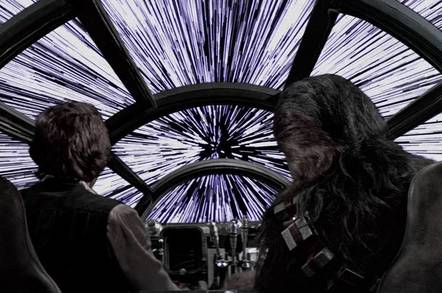 There are only three companies capable of delivering hyperscale cloud computing, the head of Microsoft's Azure declared yesterday.
After years of cloud tub-thumping, it was inevitable that marketers would need a new modifier or level of hyperbole, and "hyper" is the obvious next choice. Definitions are elastic, but it's agreed hyper-gear can ramp up to handle exponential increases in demand with no hiccups.
Jason Zander, corporate veep of Windows Azure engineering, told the crowd at the Cloud World Forum in London yesterday, there were only "three vendors in the hyperscale world".
The first is, inevitably, Microsoft with its own Azure offering; Zander took the opportunity to highlight the platform's underpinning of first-person-shooter splatter-fest Titanfall, which avails itself of 100,000 cores within the Azure cloud.
The second, he said, were "our neighbours in Seattle", which we'll assume is Amazon, rather than Starbucks.
The third, said Zander, were some mysterious "friends down the coast in California".
This opens up a range of possibilities. Facebook, home of friends real and pretend, is based down there, but doesn't really pimp out its data centres.
Zander was speaking at session sponsored by Hewlett-Packard, and was sandwiched between speakers from HP and Oracle. So, is there room for another ageing computer firm in the hyper world?
No, it would appear. Neither of these contenders fit the Microsoft definition of hyper – and Zander confirmed to us he was referring to Google.
Microsoft has about 15 data centres in its Azure network, including two in China. Just to rub salt in any wounds Zander may have inflicted on its rivals' pride, he noted that IBM – making its own bid for hypercloud domination with Softlayer – and Amazon had made declarations of intent to open data centres in the middle Kingdom, but only Microsoft had actually made it ashore so far. ®
Sponsored: Minds Mastering Machines - Call for papers now open