Virtual Africa is the logical target for IP address colonists
The last great global IPv4 stash is up held by the region that might need them the most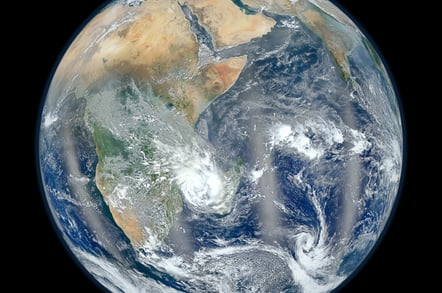 Regrettable incidents like Microsoft's address reassignment are a reminder that IPv4 address exhaustion is becoming so acute it's impacting real operations.
In Microsoft's case, as El Reg reported last week, Redmond occasionally cashes in the jar full of unloved IP addresses it brought back from abroad to find some it can use for virtual machines running on Azure.
Some of the addresses pressed into service appear to have been issued by the Latin American and Caribbean Internet Addresses Registry (LACNIC), which last week admitted it has run out of new IPv4 addresses to assign.
Microsoft's behaviour and LACNIC's plight moved one reader to email us and suggest Redmond may have been in breach of LACNIC's policies, citing this (PDF) document as backing for his argument.
The reader is right in spirit, because the document offers these guidelines for the use of IP addresses handed out by LACNIC:
The numbering resources under the stewardship of LACNIC must be distributed among organizations legally constituted within its service region and mainly serving networks and services operating in this region. External clients connected directly to main infrastructure located in the region are allowed.
Microsoft and others who would use IP addresses handed out by one region in another have plenty of leeway under that policy, and under others. Prominent Australian Internet scientist Geoff Huston told El Reg that while there have been efforts to create a "geographical NIC policy", "I am unaware that any formal policy of geographic limitation of the use of addresses was ever passed."
Geography is more a convenience, Huston said, so that people would be "able to obtain addresses in a registry … close to your own timezone and speaking your language."
In his own zone of expertise, APNIC, Huston says "routing policies are up to ISPs". APNIC's policies relate "to the process of address allocation, not to the way in which addresses are announced and routed on the Internet".
Although most NICs have policies that try to restrict an explicit trade in IPv4 addresses, such a trade exists – and this raises an interesting possibility in Vulture South's mind.
Huston's site, Potaroo.net, maintains a long-standing set of tools tracking the state of IPv4, and here we find that there is just one spot where addresses remain in their millions: Africa.
Africa has, in fact, the only NIC with more than one /8 left – it has more than three. That puts its reserve above 50 million addresses.
The chief reason for this is the relatively low development of fixed Internet infrastructure in the continent. In many countries, mobile access is far more common – and Vulture South suspects that mobile 'net users sit behind carrier-grade NAT, because that's (relatively) easy to deploy as part of the gateway between mobile users and the fixed Internet.
Whatever the reason, it would be no surprise if Africa were already being seen as a resource to be mined – not for ore or petroleum, but for IP addresses.
With no specific enforcement of geographical routing announcement, and relatively weak enforcement of no-sell policies everywhere, the Microsoft Azure incident will probably have netblock owners in Africa wondering if they could fund their IPv6 upgrade plans by letting some addresses fly off into the cloud. ®