IBM says it's made your mobe more chatty
New chippery said to extend range, battery life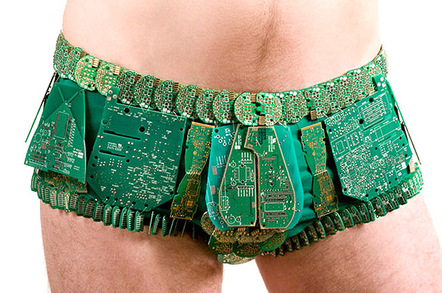 One of Big Blue 's out-of-sight, out-of-mind divisions says it has developed chippery to extend the range, speed and battery life of mobile phones.
IBM last week announced the 7SW SOI, a Radio Frequency Silicon on Insulator it says is the latest in a product line it says has already clocked up over seven billion sales around the world. Most of those sales were effectively invisible because IBM sells this kind of stuff to mobe-makers, who make a fuss about things like processors but don't bother mentioning other bits of their products' innards.
Perhaps they ought to, because IBM claims the 7SW allows smartphones to more aggressively switch between different radio frequencies, making it easier to make a connection with LTE base stations. IBM also claims the new chippery effectively extends base stations' range.
The company has also announced new silicon for base stations, using its silicon germanium chip-making techniques to extend their range by 40 per cent.
Designs for the 7SW have been placed in mobe-makers' hands and IBM tells us by early 2015 they should be ready to use the technology in new products. A bit late for next year's Galaxy S model, perhaps, but maybe something for the iPhone 7?
And also, perhaps, a reminder that while IBM appears to be going through another of its all-too-regular reinvention-necessitating-crises, the company is colossal, diverse and often rather important. ®