AT&T has Amazon 3D smartphone on lockdown – report
Can 3D touch tech hype live up to reality?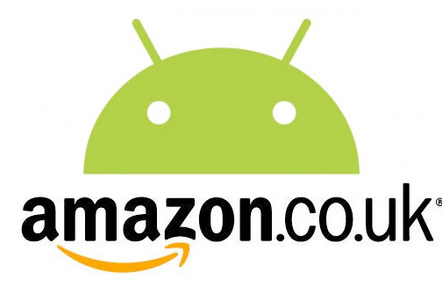 Updated Pictures and specs of a new "3D" smartphone expected to be unveiled by Amazon on 18 June have already leaked online. And just this morning we see reports that giant US carrier AT&T has inked a deal to lock the phone to its network.* But what can we really expect?
Judging by the unofficial snaps, the rumoured mobe looks like every other smartphone out there – and sports a user interface that looks like a cross between the HTC Sense's Android and Windows Phone 8's Live Tiles.
But we're told it has an active lenticular touchscreen to render glasses-free 3D images, much like QLT's displays. This uses a camera to track the position of the user's pupils, allowing it to show 3D imagery in the sweet-spot of vision.
The Amazon phone – which is expected to emerge in Seattle on Wednesday – is likely to be accompanied by finger-tracking technology, much like that used by a Leap Motion controller that uses four infrared cameras.
The result could be a phone where the icons hover above the screen and you can touch and move them about in the space over the phone. Amazon is courting developers to make the most of its user interface, we're told.
coming soon: the groundbreaking new smartphone that looks exactly like every other smartphone http://t.co/VMyXMJCAYO pic.twitter.com/O6qlAhRpDs

— Kevin W. Glass (@KevinWGlass) June 9, 2014
Behind all of this, the handset will run Android Kit Kat from a 4.7-inch screen with 720p resolution and a Qualcomm Snapdragon processor, claims tech blog BGR, which leaked the pics.
Amazon is likely to tout a complete package, over and above the hardware, with its own software and video store and airtime deals with networks, just as it does now with its Kindles.
As with the tablet-ebook-readers, the forthcoming handset could be very aggressively priced using content as the revenue stream, with a video and music service as well as cloud storage.
Comment
The Amazon phone could be the biggest thing to hit the mobile phone market since the iPhone. Amazon is a company that is always prepared to invest in the long haul.
Despite the furore over its tax arrangements, Amazon has a useful springboard: its strong customer loyalty. The web giant provides the quick gratification of hard goods in the post the same day, and its Kindle provides instant gratification.
There is a lethargy among consumers that the latest iPhone or Galaxy is only incrementally better than the previous generation. We've often heard that people are loath to change from a user interface or application they know and like, but we've seen that familiarity with Blackberry Messenger didn't save Blackberry.
Owning libraries of Nintendo games didn't stop people moving to the Playstation, or Playstation 3 users moving to the Playstation 4. The stickiness of existing platforms is often overstated and many people will have a foot in more than one camp – say a Blackberry for work and an iPhone as a personal phone.
Moving to something else isn't that hard. This is a fashion market and a distinctly cool new user interface could be just what the world is waiting for. ®
*
Update
The WSJ is reporting that Amazon has signed an exclusive carrier deal with mega-US telco AT&T.
Sponsored: How to get more from MicroStrategy by optimising your data stack