Tom Hanks NICKED my COPYRIGHTED PIC, claims Brit photog
Cornwall landscape snapper says he's out of pocket after celebrity's social media post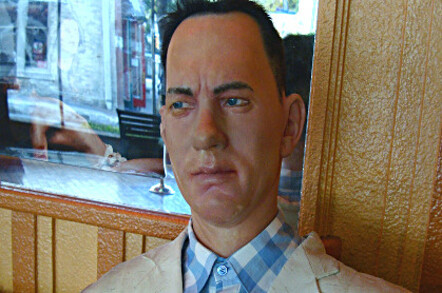 Hollywood film actor Tom Hanks' WhoSay page is attributing copyright of a photograph to the millionaire rather than to the British photographer from Cornwall to whom it actually belongs - and the plucky Brit is now fighting for the recognition he deserves.
The photo was taken by snapper Tim Martindale last year, and features his late father's war medals on a Cornwall beach.
Yet the same photo was published on "Facebook for the famous" celebrity social network WhoSay with the attribution "© 2014 Tom Hanks".
"No attempt has been made to contact me," Martindale told us this morning.
It's likely that WhoSay itself automatically slapped the false copyright attribution onto the image, he thinks. Whomever did it, Martindale has the law on his side, of course. A Haitian photojournalist won $1.2m damages in a copyright victory over picture agencies Getty and AFP. In that case, the photo agency did not attempt to claim ownership of someone else's property - as apparently the movie star (or someone acting on his behalf) has done.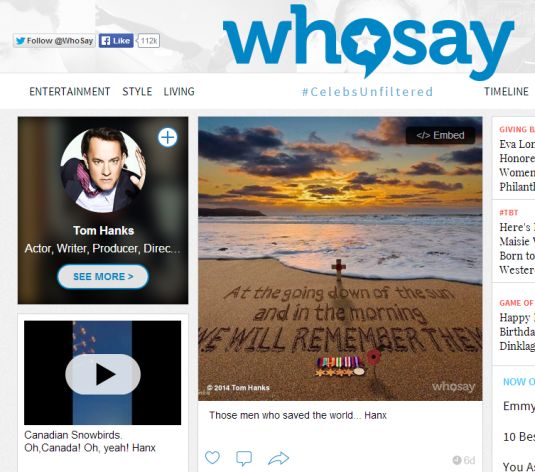 Martindale says he isn't out for personal enrichment, but wants to raise awareness of digital property theft – a digital right that self-styled "digital rights" activists never seem to recognise, let alone defend.
"It's received around 2 million views, but overall I'm £20 worse off. I haven't earned a single penny," Martindale told us.
"I'm simply hoping that the press pick this up. I'm not out for personal gain, I just want to raise awareness that a photograph posted on the internet is not theirs to do what they want with," he added.
Any luck yet? "I did have a call from BBC Spotlight but they seemed disinterested as soon as they knew Tom Hanks had not been in touch with me! There has been no interest at all from the newspapers", Martindale posted in an update today.
It's surely a coincidence that the BBC and newspapers like the Daily Mail are serial photo snatchers themselves. In response to a complaint, the corporation that likes to be called "Auntie" explained to a photographer three years ago that, "Twitter is a social network platform which is available to most people who have a computer and therefore any content on it is not subject to the same copyright laws as it is already in the public domain." [our emphasis]
The following year Auntie was at it again, publishing a photo it believed to show a massacre in Syria – when it was a nine-year-old picture of fighting in Baghdad. As part of an attempt at "crowdsourcing" news, the Beeb had simply thrown up whatever it was sent and blamed "the crowd" when it got it wrong. Along with other organisations, the BBC was dinged in the Hooper Report into copyright works for routinely stripping ID information from image metadata.
Associated Newspapers' Mail Online website regularly publishes material without a licence and gives photos such attribution as "©Twitter" or even "© The Internet". News Corp said this week it was suing Associated over what it calls serial plagiarism of its own work.
Stealing attribution on copyright works has been compared to ID theft. EU law on copyright has developed from the French idea that a creator's work is an extension of their identity.
You can follow developments in the "Hanks Heist" via Martindale's Twitter account or Facebook page.
El Reg has "reached out" (as our American cousins say) to Tom Hanks' PR agency for comment. We'll update this article if we hear back from them. ®
Sponsored: How to get more from MicroStrategy by optimising your data stack