NASA scrubs FLYING SAUCER over Hawaii ballocket mission
Wrong kind of wind grounds Mars lander airbag test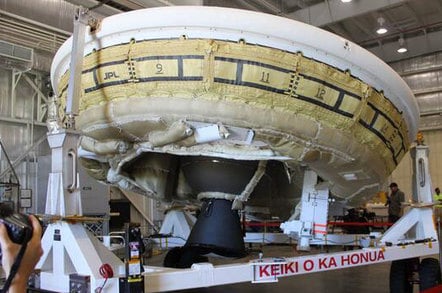 NASA has scrubbed the planned test flight of its rocket-powered flying saucer - the Low-Density Supersonic Decelerator (LDSD) - due to unfavourable wind conditions.
The LDSD was due to lift off between 3 and 13 June at the US Navy's Pacific Missile Range Facility (PMRF) on Kauai, Hawaii, to test technologies that may one day safely deposit larger payloads on the surface of Mars.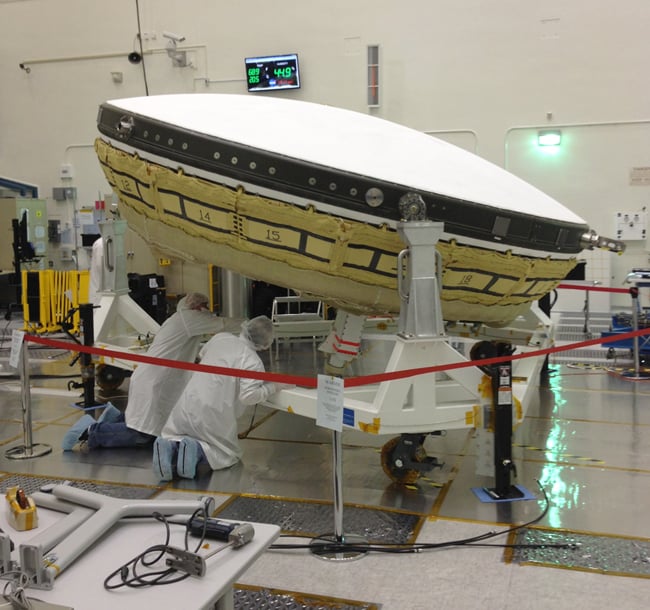 The LDSD flying saucer being prepped at NASA's Jet Propulsion Laboratory. Pic: NASA/JPL
However, all six opportunities to get the vehicle off the ground under a massive helium balloon ended with the team twiddling their thumbs as the weather refused to play ball.
Project manager Mark Adler lamented: "We needed the mid-level winds between 15,000 and 60,000 feet to take the balloon away from the island. While there were a few days that were very close, none of the days had the proper wind conditions."
NASA explains: "The team had researched for more than two years wind conditions and locations around the world that would be conducive to the test. Kauai was selected because research showed that this area had the proper wind conditions to carry the balloon away from populated areas and where it needed to go over the ocean in order to launch the test vehicle. Recent weather conditions have been unexpected and have caused unacceptable wind conditions to launch the balloon."
The agency is now looking into the possibility of a launch later this month. When the LDSD does eventually get off the ground, a mighty 963,000m3 orb will lift it to 36,500m, where a rocket motor will blast the vehicle to 55,000m and Mach 4. Then, a "balloon-like" pressure vessel – dubbed the "Supersonic Inflatable Aerodynamic Decelerator (SIAD) – will inflate around the LDSD, "to slow the test article to a speed where it becomes safe to deploy a supersonic parachute". ®
Sponsored: Detecting cyber attacks as a small to medium business