Move over, John Pilger, let us IT scandal-mongerers stick it to you
Had enough, you fascist, or shall I tweet you some more?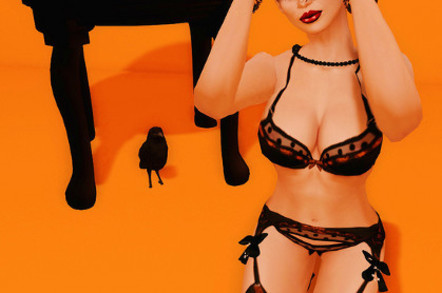 Something for the Weekend, Sir? Many thanks to the gentle readers who wished me well over the last couple of weeks as I lay in bed watching the ceiling spin.
For those of you who enjoy listening to people whose name you are familiar with but whom you don't really know talk at length about their petty illnesses as if they were life-threatening events of national import, be informed that I experienced the symptoms of being riotously drunk and having a hangover simultaneously, except without having drunk any alcohol or having enjoyed any brief periods of laughing at an unnecessarily loud volume.
As soon as I was well enough to drag my poorly spleen to the edge of the bed in order to pick up my Nexus, I thought I'd find out which of my ancient columns had been published in my absence – Doric perhaps? (ho ho... just a bit of classical Greek architectural humour – sorry I'm not feeling much better to be honest.)
It was pleasing and satisfyingly topical to see my Jimmy Savile autograph make its re-appearance. For your reading pleasure, may I present you with another mystery 1970s Radio 1 DJ from my juvenile autograph-hunter's book?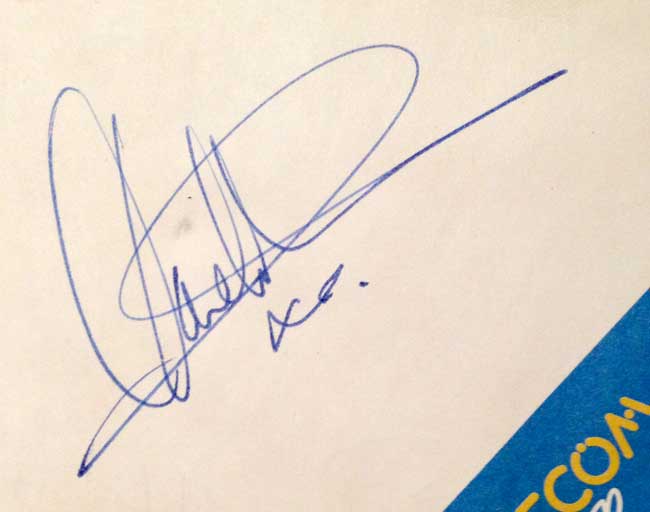 He was in Leeds to cut the ribbon to open a British Telecom shop, can you believe, hence the old-style BT comp slip. Can you guess to whom this scrawl belongs? To help you out, here's a photo of the event, carefully clipped from the Yorkshire Evening Post and neatly pasted into my autograph book.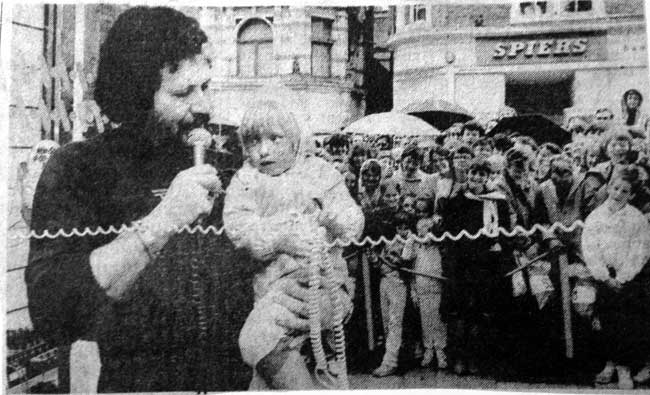 Too tired to occupy myself with topical news while ill, other than to note the usual round of password theft scandals and wonder at Apple's public announcement to developers that it had officially Run Out Of Ideas™, my convalescence was spent reading a book. It was a real book, too, constructed of folded sections of paper printed with black ink and stacked together, glued at the spine and perfect-bound with a two-colour laminated card cover and trimmed to A5.
B Pörksen and D Detel, The Unleashed Scandal – The End of Control in the Digital Age, Imprint Academic, 2014 (ISBN 9781845407193) is the English translation of a 2012 treatise on social media by a pair of German academics at the University of Tübingen. It came to my attention through a press release that made wild claims that wouldn't have looked out of place in a porn video shop window. "Traditional media emasculated," it screamed. "Scandal is the lubricant of our digital age".
How could I resist a work of such high-minded research about how digital media has chopped off my traditional testicles? Email me a gonad-threatening and thoroughly lubricated review copy forthwith!
Except they couldn't. This radical exposé about how digital social media is killing off print-based news journalism is not available in digital format: only in, er, print.
Don't worry, I won't subject you to a book review, other than to confirm that once it had been delivered by a postman a couple of days later, The Unleashed Scandal turned out to follow the same gist of all other non-fiction about the subject, worshipping at the altar of social media and meticulously avoiding any risk of accidentally raising any issues that might contradict the official mantra: Twitter Good, Twitter Fast.
Digital social networks teeming with ordinary people, we learn from Pörksen and Detel, are swifter, more powerful and more effective than fuddy-duddy journalists when it comes to breaking big-time news stories and major scandals. While the drunk old Fleet Street duffers are still wiping the cobwebs from their typewriters and wasting their geriatric final days with unimportant detail such as, oh I dunno, speaking to people and checking facts, an anonymous citizen blogger can get his unsubstantiated defamatory smears online within seconds.
Sponsored: Becoming a Pragmatic Security Leader