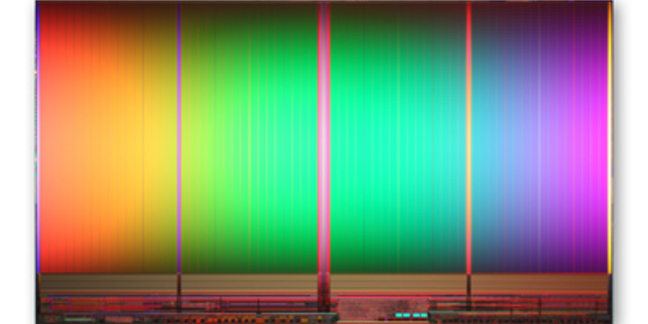 HP Discover HP's Discover conference, held over 10-12 June in Las Vegas, featured sessions from Intel, SanDisk and Toshiba as well as HP, and flash featured highly on the agenda. We've rounded up the most useful storage titbits for your reading pleasure.
We're informed that HP is not talking to Simplivity about acquired that converged server/storage/networking vendor, and the rumour could have been started by either party themselves to gauge reactions.
The importance of the fab link for major flash product vendors remains strong. We have:
Seagate-Samsung;
Toshiba-Violin and Toshiba-SanDisk partnerships;
Micron-Intel partnership
Western Digital (HGST) and … who?
This suggests WD really needs to get in bed with a flash fab. The Vulture Fab Dating Agency, motto "1 NAND 1 makes two," suggests SK hynix as a partner to be considered by WD.
We tentatively think that HP now sees the Memristor tech as an inside-HP tech and is not focussing much on external sales. Memristor DIMMs in 2016 could change that. We also suggest the SK hynix Memristor manufacturing effort has failed.
Does The Machine conception have disk storage at all, or just Memristor Universal Memory?
HP will make a technology (not product) 3D printing announcement, focussed on manufacturing and not consumer use, in October. It might address issues concerning printed part quality, printing time, and general difficulties in delivering high quality parts quickly.
The SanDisk session talked about the flash-enabled data centre.
SanDisk is more focussed on ULLtraDIMMs than SSDs
HP is qualifying ULLtraDIMMs
2nd vendor qualification to start soon
3rd and 4th vendor qualifications expected in next few months
IBM is already qualified, with Lenovo expected to inherit that qualification with the purchase of IBM's X86 server business
(We suggest new qualifiers include Cisco, Dell and Fujitsu)
A refresh of SanDisk PCIe flash cards coming.
SanDisk will launch its Schooner database optimisation software shortly.
Facebook is moving to an all-flash data centre.
SanDisk believes that SSDs will surpass the density of HDDs over the next 12-18 months.
Toshiba, now shipping a 5-platter 5TB drive, should ship a 6-platter 6TB disk drive later this year.
No imminent expectation of any Toshiba PCIe flash card. Maybe 2015?
ARM-based Moonshot servers expected later this year.
HP has internally-developed flash module that can support 4 processing cores on an AMD chassis.
Veeam planning gen 8 product release later this year.
CommVault may integrate VM-aware backup and replication later this year.
We thank analyst outfit Stifel Nicolaus' MD, Aaron Rakers, for many of these snippets. ®
Sponsored: Webcast: Ransomware has gone nuclear