Google to let Chromebookers take video content OFFLINE
Plugin allows users to save and watch Play titles without connection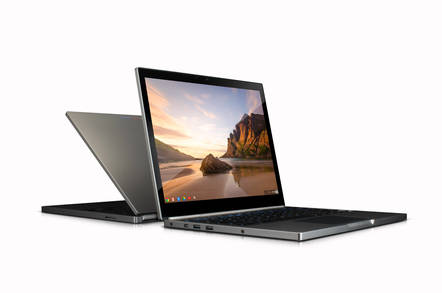 Google has released a plugin for its Chrome OS platform that will allow users to view video content from the Play Store without the need for an internet connection.
The company said that the Google Play Movies & TV Chrome app will now support local storage and playback of video, allowing users to view content from the Play service even when they are offline.
"In addition to offline mode on Chrome OS, it also brings Info Cards and an improved Chromecast and local playback experience to anyone watching movies through the Chrome browser," Google said in announcing the release of the plug-in.
Currently, the plug-in is limited to Chrome OS devices, such as Chromebooks and Chromeboxes. Users running the Chrome browser on other platforms and devices will still need a network connection in order to watch content from the Play service.
The update will allow Chromebook owners to enjoy the offline video feature that rival platforms such as iTunes offer to users who purchase and download their video content. While Wi-Fi connectivity in becoming increasingly common in public locations, there are still situations in which being able to watch offline is necessary.
Meanwhile, the range of available Chromebook models continues to grow, with Google steadily expanding their availability to new markets.
The platform got a boost earlier this year when Intel announced that it would partner with Google on an effort to put new Bay Trail SoC models in Chromebook systems. Typically priced at the low end, the Chromebook platform relies primarily on streaming content and web-based apps. ®